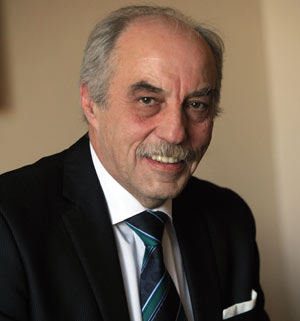 Herbert Jaeckle, German, vice-president of the Max Planck Society. 
Herbert Jaeckle, German, vice-president of the Max Planck Society. He has been promoting cooperation with China since the 1980s and made a major contribution to the establishment of the CAS-MPG Partner Institute for Computational Biology.
How do you feel about winning this award?
I feel deeply honored and humbled by the recognition the People's Republic of China has bestowed on me. I view this occasion as one of the great moments of my scientific life.
In your opinion, what were the main factors behind your winning the award?
I honestly do not know, because you cannot apply for this great award. I do think, however, that this award honors not so much me as a person but the Max Planck Society, a German research organization, which established a very fruitful and growing relationship with the Chinese Academy of Sciences and Chinese Science in general.
This relationship — by now, friendship — started close to 40 years ago and resulted in a joint scientific venture. We have set up a Partner Institute with an international focus in the forward-looking field of computational biology in Shanghai, and we have initiated new joint programs for talented junior scientists — such as a training program for Chinese doctoral students in Germany, which started a few years ago. I'm pleased that, already, more than 100 students have had the opportunity to work at the Max Planck Institute.
What has been your most important accomplishment in China?
Aside from establishing joint programs for young scientists — the next generation of researchers — we have seeded trust and friendship between people from two nations of different cultural backgrounds. This is what science is all about: discovering and learning beyond the borders of knowledge, and sharing this knowledge across the borders of nations. This requires trust and respect for others.
Beyond the technical aspects of the joint enterprises of the Chinese Academy of Sciences and the Max Planck Society, which worked very well, the mutual respect and trust that developed between the partners is, in my view, the most important achievement.
How has your work in China helped your career to develop in your native country?
I don't think my work in China has helped or changed my career in my home country. But it has widened my personal views on things, and I learned a lot about Chinese tradition, culture and people.
What do you feel about the level of research carried out in China compared with other places around the world?
The development of research in China has been amazingly fast over the last decade. One can tell that many Chinese leaders have — in the past and still today — a background in engineering. And this is one of the reasons why science and innovation are so high on the agenda.
At the same time, I realize that almost all investment goes into applied science. I, however, believe in Max Planck's quote: "Insight must precede application". This is to say that fundamental research makes discoveries, and discoveries lead to understanding, and understanding, in turn, can be applied.
As much as I admire the rapidly growing success of Chinese science, this aspect is what I am missing a bit. Other than that, I do think that China is the fastest growing research place worldwide both in quantity (not so important) and quality (this is essential) as it has been in ancient times.
What plans do you have to carry out work related to China in the next five to 10 years?
Our aim is to intensify the strategic cooperation with the CAS and to bring in new features. For example, it's conceivable that we might enter into trilateral cooperation with universities through the new centers that are currently being established by the CAS in conjunction with China's universities.
And we are very interested in promoting brain circulation and shared career development between our two countries by having more young scientists from our institutes work in China. We made an agreement to this end in 2012 and we are going to pursue that now.
Most important, however, and aside from programs that may develop, it is my intension to further deepen mutual trust and understanding among the scientists, in particular the young scientists of the two countries. In my view, this is the best investment for science: to link the next generation of scientists across borders and across different cultural backgrounds for our mutual benefit, in the service of science and with a view on our social responsibility for the development of our countries and the world. We can and should learn from each other in friendship and trust.