High pay and good experience attract students amid fierce competition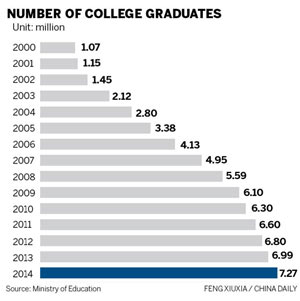 Fu Siyu will take a flight from Beijing to Singapore early on Monday morning. The 20-year-old, who majors in international economy and trade, will work in sales at a bookstore at Singapore Changi Airport for the next two years.
Fu is one of the 7.27 million university students who will graduate in China in June, almost equal to the population of Switzerland.
Many universities allow students to use their last semester to look for jobs and internships amid fierce competition. Some, including the Shandong Foreign Languages Vocational College, where Fu studies, even allow their students to look for opportunities in overseas markets.
The college in Rizhao launched a three-year campaign to send 1,000 students overseas in December, said Du Lin, vice-president of the college.
About 3,000 students graduated from the college in 2013 and about 100 landed jobs, mainly as salespeople at tax-free shops at international airports, or as teachers or hotel workers in countries such as Singapore, Japan and the United Arab Emirates.
"Salaries (in developed countries) are much higher, so our students are willing to work abroad," Du said.
The starting salary is about 3,000 yuan to 4,000 yuan ($500 to $660) for graduates in China, but those going abroad can earn about 10,000 yuan for the same job, she said.
"We will reform our curriculum by training students to meet the requirements of foreign companies and teach them interview skills," she said.
Du's college has even registered a commercial agency to help people apply for work visas and book flights.
Fu signed up for the overseas work program after attending a campus job fair in the summer. After that, she paid 30,000 yuan to apply and went for several interviews, including for sales jobs in a beauty salon and at the airport.
"All interviews were in English," said Fu, who hails from the Inner Mongolia autonomous region. "I guess the interviewers wanted to find out our communication skills, attitude toward the job and our appearance."
Fu paid 5,000 yuan for almost two months of training to improve her oral English as well as culture courses for Singapore.
On Dec 30, Fu received the offer to work at the Changi airport with a monthly salary of S$1,500 ($1,180) for eight hours a day, five days a week, with an annual one-week vacation.
"I look forward to learning new things in a new environment and improving my English," she said.