China, Indonesia aim for $80b in trade by 2015
By ( Xinhua )
Updated: 2013-10-03
JAKARTA - China and Indonesia leaders will work to achieve $80 billion in bilateral trade by 2015, said a joint statement issued Thursday.
The statement, issued by visiting Chinese President Xi Jinping and his Indonesian counterpart, Susilo Bambang Yudhoyono, said the goal is expected to be realized through putting more emphasis on strong, balanced, sustainable and steady growing two-way trade.
China is now Indonesia's second largest trading partner, with bilateral trade standing at $66.2 billion last year, four times that of 2005. Two-way trade in the first half of 2013 hit $33.84 billion, up 4.6 percent from the same period of last year.
In the statement, the two leaders agreed that two-way investment cooperation has potential for growth. China will continue to encourage Chinese enterprises to increase direct investment in Indonesia, it said.
The two leaders agreed to actively implement the China-Indonesia Five-Year Development Program for Trade and Economic Cooperation.
Both leaders also recognized the importance of strengthening financial cooperation between the two countries, said the document.
Recognizing the importance and mutual benefit of deeper industrial cooperation, both countries supported and welcomed the establishment of Indonesia-China Integrated Industrial Parks by Chinese enterprises in Indonesia, according to the document.
Such cooperation would inject new vitality into bilateral trade and investment cooperation, said the document.
The Chinese president reaffirmed Beijing's readiness to continue encouraging and supporting Chinese enterprises participating in Indonesia's infrastructure development, particularly those covered in the Master Plan for Acceleration and Expansion of Indonesia's Economic Development 2011-2015, said the document.
Yudhoyono welcomed and encouraged China's greater investment in and contribution to the infrastructural connectivity in Indonesia, such as railways, bridges, highways, seaports and airports.
The two leaders agreed on the need to enhance connectivity between the two countries through establishing direct links by sea, air and digital communication. Both sides agreed to explore possible cooperation between industrial zones, seaports and airports of the two countries, said the document.
Xi on Thursday wrapped up his two-day state visit to the Southeast Asian country and left for Malaysia. He will later travel to the Indonesian resort island of Bali for an APEC meeting.
Related reading:
China, Indonesia to maintain peace in S China Sea
Xi meets Indonesian VP on bilateral ties
Indonesian legislators praise Xi's speech
Xi talks with Indonesian parliament speaker on ties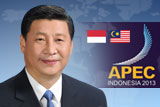 Australia must wake up from the American Fantasy and start living the Chinese Dream. Australian culture is more in line with China than America.