Xi talks with Indonesian parliament speaker on ties
By ( Xinhua )
Updated: 2013-10-03
JAKARTA - Visiting Chinese President Xi Jinping discussed bilateral ties with Indonesia's Speaker of the House of Representatives Marzuki Alie here on Thursday.
Xi said he and his Indonesian counterpart Susilo Bambang Yudhoyono both agreed to lift bilateral ties to a comprehensive strategic partnership. China is willing to strengthen strategic communication and boost cooperation with Indonesia in such areas as economy, trade and people-to-people exchanges, he said.
Noting that the two countries' legislatures have maintained sound cooperative relations, Xi expressed hopes that the two sides could continue to strengthen exchanges, learn from each other and make greater contributions to the improvement of bilateral ties.
For his part, Alie welcomed Xi's visit to the House of Representatives of Indonesia, noting that Xi is the first foreign head of state delivering a speech here.
Alie said that the friendly cooperative relations between Indonesia and China developed smoothly over recent years, adding that the two countries' legislatures have close exchanges.
Indonesia's House of Representatives supports the development of bilateral ties and is willing to strengthen relations with China's National People's Congress, so as to play an active role in promoting bilateral exchanges and cooperation and advance bilateral ties to a new level, Alie said.
Xi arrived here Wednesday for a two-day state visit to the Southeast Asian country. He will then travel to Malaysia before heading back to the Indonesian resort island of Bali for an APEC meeting.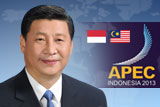 China should increase investment in ASEAN
China should ratchet up cooperation with Association of Southeast Asian Nations countries to expand Beijing's regional influence while countering Washington's Asia-Pacific pivot strategy.