China, Indonesia to maintain peace in S China Sea
By ( Xinhua )
Updated: 2013-10-03
JAKARTA - Chinese President Xi Jinping and his Indonesian counterpart, Susilo Bambang Yudhoyono, agreed that it is the common responsibility of the countries in the region to maintain peace and stability in the South China Sea, according to a joint statement issued here Thursday.
China, Indonesia and other ASEAN countries shall work together to fully and effectively implement the Declaration on the Conduct of Parties in the South China Sea (DOC), enhance mutual trust, promote cooperation, and maintain peace and stability in the South China Sea, said a document titled Future Direction of China-Indonesia Comprehensive Strategic Partnership.
The two leaders agreed to work toward the eventual adoption of a code of conduct in the South China Sea, following the principles and spirit of the DOC.
Xi arrived here Wednesday for a two-day state visit to the Southeast Asian country. He will then travel to Malaysia before heading back to the Indonesian resort island of Bali for an APEC meeting.
Related reading:
Indonesian legislators praise Xi's speech
China to build community of common destiny with ASEAN
Xi talks with Indonesian parliament speaker on ties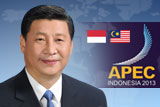 China should increase investment in ASEAN
China should ratchet up cooperation with Association of Southeast Asian Nations countries to expand Beijing's regional influence while countering Washington's Asia-Pacific pivot strategy.