Indonesian legislators praise Xi's speech
By ( Xinhua )
Updated: 2013-10-03
JAKARTA - Indonesian legislators attending the special event to welcome the visit of Chinese President Xi Jinping in the parliament building on Thursday warmly welcomed the official speech delivered by the president, expecting more concrete efforts to develop relations between the two countries.
Speaking on the sidelines of Chinese President Xi Jinping speech at the parliament building here, Indonesia's Parliament Speaker Marzuki Ali said that the speech was very inspiring, reminding that the relation between the two nations is inseparable, which has been established for centuries.
President Xi Jinping is the first foreign president to deliver speech in Indonesian parliament.
"We hope that under the leadership of President Xi Jinping, our relations can be continued in a bid to develop the welfare of people both in Indonesia and China in the future," Marzuki told Xinhua.
Marzuki said that China expects Indonesia to serve as the center of China's relations with other countries in Southeast Asia. Indonesia has the largest territory and economy in the region that continuously posted high growth above 6 percent in the last few years, and hosts the secretariat of regional politics and economy bloc of ASEAN.
In his remarks to welcome the visit of President Xi Jinping, Marzuki said that relations between Indonesia and China has improved significantly since the reopening of ties between the two countries in 1967.
Marzuki said that Chinese culture now has been endorsed by government as part of Indonesian cultures with the government declaring national holiday for Chinese festivity days. He added that ethnic Chinese apparently contributes more than 30 percent of economy in the country.
He said that the two way trades has increased significantly from $26.6 billion in 2009 to $66.6 billion in 2012. China has served as Indonesia's second largest trade partner with bilateral trade expected to reach $80 billion by 2015.  
Indonesia posted record-high $12 billion export to China in the first seven months this year.
"When I met Chinese premier last year during my visit in that country, he said that China wanted to advance further along with Indonesia, would not live on surplus it gained from Indonesia. China ready to help increasing Indonesia's capacity and opening more of its domestic markets for Indonesian products," Marzuki said.
He added that the planned Chinese investment increase was the most concrete move demonstrated by Chinese government to respond this issue. Marzuki said that the plan was discussed in the recent meeting of Indonesian President Susilo Bambang Yudhoyono and his Chinese visiting counterpart.
"We must support what have been conducted by President Susilo Bambang Yudhoyono and President Xi Jinping," Marzuki pointed out.
He said that China's investment in Indonesia now stood at $2.22 billion.  Reports said that $32.8 billion worth of new Chinese investments in Indonesia are ready to be signed in the upcoming Asia Pacific Economic Cooperation (APEC) leaders meeting in Indonesia's Bali.
Milton Pakpahan, a legislator at the parliament's Commission VII for energy issue said that Indonesia provides abundant of resources and China has the technology and industry.
"We are perfectly depended to each other. We have something that beneficial to them. Should they open their investments here, it would be more efficient. In our side, it would create jobs that eventually would increase welfare to both countries," Milton, a legislator from the ruling Democrat Party, told Xinhua.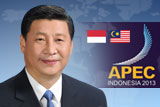 China should increase investment in ASEAN
China should ratchet up cooperation with Association of Southeast Asian Nations countries to expand Beijing's regional influence while countering Washington's Asia-Pacific pivot strategy.