China to build community of common destiny with ASEAN
By ( Xinhua )
Updated: 2013-10-03
JAKARTA, Oct 3 - Chinese President Xi Jinping said on Thursday that China wants to build closer ties and a community of common destiny with members of the Association of Southeast Asian Nations (ASEAN).
Xi said in an address to Indonesian lawmakers that China is willing to work with Indonesia and other ASEAN countries to ensure that China and ASEAN are good neighbors, friends and partners, and jointly build a more closely-knit China-ASEAN community of common destiny.
To that end, Xi tabled a five-point proposal.
Firstly, the two sides should build trust and develop good-neighborliness. China is committed to a relationship of sincerity and friendship with ASEAN countries and to enhanced mutual political and strategic trust, Xi said.
"We should respect each other's right to independently choose their own social system and development path, as well as each other's efforts to explore and pursue economic and social development, and improve people's lives," he said.
The Chinese president reiterated that China will continue to support ASEAN in growing its strength, building ASEAN community and playing a central role in regional cooperation.
Secondly, China and ASEAN countries should work for win-win cooperation.
China is ready to open itself wider to ASEAN countries on the basis of equality and mutual benefit to enable ASEAN countries to benefit more from China's development, Xi declared, adding that Beijing is prepared to elevate the level of China-ASEAN Free Trade Area and strive to expand two-way trade to one trillion U.S. dollars by 2020.
China is committed to greater connectivity with ASEAN countries and has proposed to establish an Asian infrastructure investment bank that would support infrastructure connectivity between ASEAN countries as well as other developing countries in the region, the Chinese leader said.
Thirdly, the two sides should stand together and assist each other.
Xi said that China will stand together with ASEAN countries and assist each other, adding that both sides should champion the new thinking of comprehensive security, common security and cooperative security, and jointly uphold regional peace and stability.
He noted that both sides should deepen cooperation in disaster prevention and relief, cyber security, combating cross-border crimes and joint law enforcement to create a more peaceful, tranquil and amicable home for the people in the region.
With regard to differences and disputes between China and some Southeast Asian nations on territorial sovereignty and maritime rights in the South China Sea, Xi said that peaceful solutions should be sought, and differences and disputes should be properly handled through equal-footed dialogue and friendly consultation in the overall interests of bilateral ties and regional stability.
Fourthly, China and ASEAN countries should enhance mutual understanding and friendship to increase the social support for bilateral ties. China is ready to send more volunteers to ASEAN countries to support their cultural, educational, health and medical development, Xi said.
In addition, China has proposed to set 2014 as the year of China-ASEAN cultural exchanges, said Xi, adding that the country will also offer ASEAN member states 15,000 government scholarships over the next three to five years.
Fifthly, China and ASEAN countries should stick to openness and inclusiveness. The two sides welcome non-regional countries to play a constructive role in regional development and stability, said Xi.
The China-ASEAN community of shared destiny is closely linked with the the ASEAN and East Asia community, said Xi, urging both sides to bring out their respective strengths to realize diversity, harmony, inclusiveness and common progress.
Moreover, Xi emphasized that China is fully committed to the path of peaceful development.
A stronger China will present development opportunities, rather than posing a threat, to Asia and the world, said Xi. "China will continue to share opportunities for economic and social development with ASEAN, Asia and the world."
Xi is currently on a two-day state visit to Indonesia. After his Jakarta visit, the Chinese president will head to neighboring Malaysia before returning for a meeting of the Asia-Pacific Economic Cooperation in the Indonesian resort island of Bali.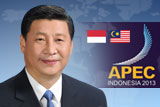 China should increase investment in ASEAN
China should ratchet up cooperation with Association of Southeast Asian Nations countries to expand Beijing's regional influence while countering Washington's Asia-Pacific pivot strategy.