Xi meets Indonesian VP on bilateral ties
By ( Xinhua )
Updated: 2013-10-03
JAKARTA - Chinese President Xi Jinping met with Indonesian Vice President Boediono here on Thursday on bilateral ties.
Xi said that China-Indonesia relations maintained sound development momentum over recent years and that cooperation between the two countries is highly complementary.
Noting that he and his Indonesian counterpart Susilo Bambang Yudhoyono had deep understanding and high consensus on the strategic significance of the two countries' cooperation, Xi said, "we both agreed to lift bilateral ties to a comprehensive strategic partnership, which opened new and wider prospect for the cooperation between the two countries."
Xi urged both sides to frequently exchange views on the economic situation of the world and the Asia-Pacific region and jointly push forward cooperation between China and the Association of Southeast Asian Nations (ASEAN).
Xi believed that cooperation between China and Indonesia will score more remarkable achievements in a foreseeable future.
Boediono noted that Indonesia is satisfied with the sound development of bilateral ties and hopes to constantly strengthen ties with China.
He believed that Xi's visit will effectively beef up cooperation in all areas between the two countries and further promote the development of each country.
Xi arrived here Wednesday for a two-day state visit to the Southeast Asian country. He will then travel to Malaysia before heading back to the Indonesian resort island of Bali for an APEC meeting.
Related reading:
Indonesian legislators praise Xi's speech
China to build community of common destiny with ASEAN
Xi talks with Indonesian parliament speaker on ties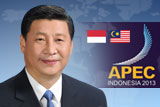 China should increase investment in ASEAN
China should ratchet up cooperation with Association of Southeast Asian Nations countries to expand Beijing's regional influence while countering Washington's Asia-Pacific pivot strategy.