Xi ends Indonesia visit, leaves for Malaysia
By ( Xinhua )
Updated: 2013-10-03
JAKARTA - Chinese President Xi Jinping on Thursday wrapped up his trip to Indonesia and left for Malaysia for a state visit.
Indonesia is the first leg of Xi's Southeast Asia tour. During his two-day stay in the country, the Chinese president and his Indonesian counterpart, Susilo Bambang Yudhoyono, agreed to lift bilateral ties to a comprehensive strategic partnership.
The two leaders pledged to boost China-Indonesia cooperation in an all-around manner so as to expand bilateral exchanges and cooperation into more areas and raise them to higher levels.
After his Malaysia visit, Xi will travel back to the Indonesian resort island of Bali for the 21st informal economic leaders' meeting of the Asia-Pacific Economic Cooperation.
Related reading:
Indonesian legislators praise Xi's speech
China to build community of common destiny with ASEAN
Xi talks with Indonesian parliament speaker on ties
Xi gives speech to Indonesia's parliament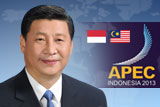 China should increase investment in ASEAN
China should ratchet up cooperation with Association of Southeast Asian Nations countries to expand Beijing's regional influence while countering Washington's Asia-Pacific pivot strategy.