Efforts well-aligned with China's new reforms and opening-up policies: expert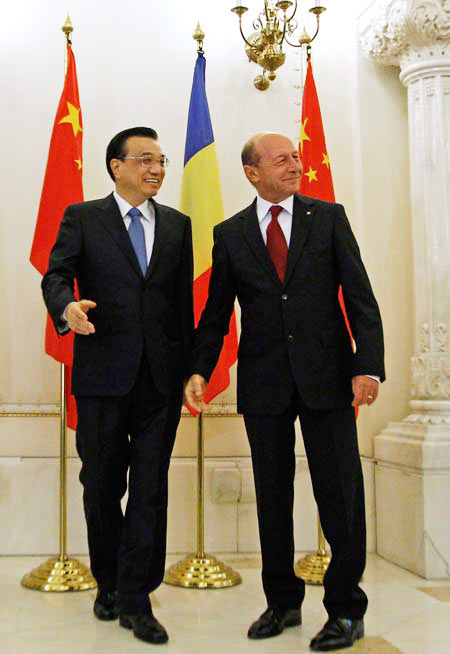 Romanian President Traian Basescu welcomes Premier Li Keqiang at the Cotroceni presidential palace in Bucharest on Wednesday. Li is on a three-day visit to Romania to attend the meeting of heads of government from Central and Eastern European countries and China. Bogdan Cristel / Reuters
The start of Premier Li Keqiang's first tour to Central and Eastern Europe has impressed the global media with its hectic schedule, starting from the second he stepped on the ground in Romania.
In less than two days, Li met with 15 prime ministers and one foreign minister of the 16 CEE nations on the sidelines of the China-CEE leaders meeting.
Li is the highest-ranking Chinese official to go on a foreign trip since the conclusion of the Third Plenary Session of the 18th Central Committee of the Chinese Communist Party, which drew up a blueprint for China's reform in the coming years.
Li briefed his CEE counterparts on Beijing's comprehensive reform plans, saying they will bring more opportunities for cooperation between the two sides in the fields of infrastructure construction, clean energy and large equipment exports.
The leaders responded by saying they welcome Chinese investment to advance regional economic development, and extended invitations to the premier to visit more of the region.
During a speech at the Romanian Parliament Palace to the Chamber of Deputies and the Senate on Wednesday, Li pledged more joint infrastructure projects in Romania with the involvement of Chinese companies.
Discussion of the scale of cooperation in high-speed railways and power plants are going on, Li said.
He was interrupted by warm applause about 20 times.
Analysts say Li's trip should be viewed through the prism of the plenum's call for the comprehensive deepening of reform, and that what he conveys of China's interest in pursuing common economic prosperity and cooperation with the CEE countries will set the stage for future bilateral and multilateral relations in Europe.
"Central and Eastern European countries are understandably very interested in energy cooperation and infrastructure development, which can accelerate their industrialization objectives," said Dan Steinbock, research director of International Business at the India, China and America Institute.
"Conversely, such efforts are multilaterally well-aligned with China's new reforms and opening-up policies, just as they also reflect longstanding bilateral ties between China and the CEE economies."
Steinbock said Li's efforts to boost economic ties with Central and Eastern Europe make sense in several ways.
China has historically sought deeper ties with advanced Europe, which remains China's key technology partner and comprises primarily the core economies of Western Europe, he said.
However, China also has longstanding historical ties with the transitional economies of Central and Eastern Europe, which represent the "emerging Europe" and already offer many Chinese companies a cost-efficient gateway to advanced Europe, he said.
Most European multinationals also use these economies for low-cost production and assembly. Such investments are vital to Central and Eastern European economies, which can use them to intensify their modernization and move higher in the value-added chain, Steinbock said.
Ding Yuanhong, China's former ambassador to the European Union, said China's economic cooperation with the region can provide necessary technological and financial support and stimulate the rapid development of local economies, which will contribute to China and the EU's goal of reaching $1 trillion trade volume in 2020.
Ding said more efforts are needed as the trade volume between China and the 16 CEE countries accounts for only 10 percent of China's total trade volume with Europe, which reached $54.6 billion in 2012.
However, China's interest in Central and Eastern Europe has aroused concern from the EU and some European countries, which worry China's growing influence in the area may weaken the unity of Europe.
"For all practical purposes, Europe is not an integrated whole. As a result, it is only natural for China to approach Europe vis-a-vis individual economies, regional blocs and Brussels," he said.
Zhao Junjie, a European studies researcher at the Chinese Academy of Social Sciences, said China's deepening cooperation with Central and Eastern Europe is strategically significant both economically and politically.
"The economies of Central and Eastern European countries used to rely on the support of developed European countries like Germany and France. But these countries can no longer provide the necessary assistance because of the financial crisis," Zhao said.
China, on the other hand, is able to "invest in the area and export the best technologies" the CEE countries needed.
"It's a good chance for Chinese companies to enter the local markets and forward their business to the whole European market in the future," Zhao added.
Besides economic benefits, China's ties with CEE countries can also increase political trust between China and Europe.
"It's not only an important chance for the regional countries to boost their economies with China's help, but also an opportunity for China to deepen communications and understanding with Europe and complete bilateral relations at various levels," Zhao said.
Contact the writer at zhaoyinan@chinadaily.com.cn