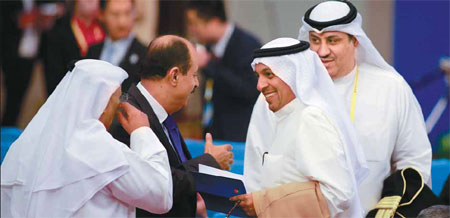 Representatives from Arab countries at the opening ceremony of the first China-Arab States Expo on Sept 15. Photos by Feng Yongbin / China Daily
Home for nation's Hui plays the role of emissary
Since the Ningxia Hui autonomous region began hosting the China-Arab States Economic and Trade Forum in 2010, it has become a hub of investment from Arabic countries by offering high-end products, convenient visa procedures and favorable tax policies.
With the approval of China's State Council, the previous forum was upgraded and renamed the China-Arab States Expo last year.
The 2013 Expo is designed to create a high-end space for dialogue as well as a matchmaking platform and specialized exhibition in the fields of agriculture, finance, energy, chemicals, new technology, culture and tourism.
In addition to a personnel training base in Ningxia tailor-made for the Arabic states, business activities and regional cultural integration have helped to further enhance trade ties between the two sides.
Bilateral trade between China and Arabic nations amounted to $222.4 billion in 2012.
Ningxia's exports to Arabic countries such as Saudi Arabia, Kuwait and Jordan totaled $51.67 million, a year-on-year increase of 35 percent, according to the Ningxia Bureau of Statistics.
Liu Hui, chairwoman of the Ningxia regional government, said companies in Ningxia are adding more high-tech elements to their products, as they want to reach more trade goals with various Arabic markets.
The Arab world comprises 22 countries and territories of the Arab League.
Together they hold a combined population of about 422 million people.
Some Arabic nations have oil wealth, especially the member states of the Gulf Cooperation Council, including Qatar, Saudi Arabia and the United Arab Emirates.
"Both sides are keen to adjust their industrial structure for exports to seize more business opportunities," Liu said.
"Energy cooperation, high-end machinery and daily necessities will play a key role in dominating the trade between Ningxia and the Arabic markets over the next decade."
Ningxia mainly ships agricultural, electronic and cashmere products, machine tools, activated carbon, garments and daily necessities to Arabic countries.
It also provides dry-land farming solutions to 11 Middle East and North African nations.
In addition to crude oil, petrochemicals, fertilizer and other products, Arabic countries' exports to Ningxia have become more diversified, including marble, olive oil and sesame products.
In June, Yinchuan, the capital of Ningxia, became the third city in China's northwest region to allow residents from the member states of the Arab League to visit Ningxia under a visa-on-arrival policy.
Similar visa policies were granted to Urumqi of the Xinjiang Uygur autonomous region and Xi'an in Shaanxi province by Chinese government in 2007 and 2012, respectively.
Liu Tianming, a researcher at the Ningxia Academy of Social Sciences in Yinchuan, said, "In the context of the global economic downturn, Ningxia is moving toward a low-carbon, high-tech economy by curbing overcapacity and reducing the scale of energy-intensive industries on one hand while encouraging high-tech industries to boost exports."
To diversify economic development models in China's inland provinces and regions, the central government ratified the construction of its first inland foreign-oriented economic trial zone of Ningxia and the Yinchuan Bonded Area in 2012. These facilities offer more international trade, commercial and urban development opportunities for the region.
They have already attracted companies from Saudi Arabia, Qatar, Russia, South Korea and Australia to build manufacturing facilities and set up regional offices throughout Ningxia.
Yuan Jiajun, executive vice-chairman of Ningxia, said the bonded zone is a pioneering effort.
"As the first zone of this kind, we want to further develop key sectors, such as aviation, logistics, finance and information services through regional cooperation, which includes working with a number of domestic commercial banks, bonds issuers and trust funds to strengthen our financing capability," Yuan said.
The region is trying to form joint financial service agencies with wealthy Arabic nations to attract petrodollars to provide financial assistance to Ningxia.
Petrodollars are defined as the US dollar-denominated incomes of oil-rich countries, especially the Gulf States, achieved through the sale of oil to other economies.
Yuan said the region's clean energy, Halal food and commodities industries are quite suitable for the use of petrodollars. "We expect that the central government might relax the restrictions on foreign capital in these sectors," Yuan said.
"The success of the Shanghai Free Trade Zone pilot program will also be applied in the zone's development sooner or later."
Yu Ping, vice-president of the China Council for the Promotion of International Trade, said the benefit would be mutual.
Petrodollars could provide sufficient financial support to further stimulate bilateral trade and investment relations.
In 2012, Gulf financial institutions purchased large stakes in Chinese companies listed in Hong Kong. Qatar, Kuwait and other countries' sovereign wealth funds shared about $1 billion in investment quotas under the qualified foreign institutional investor program, according to the China Chamber of International Commerce in Beijing.
zhongnan@chinadaily.com.cn