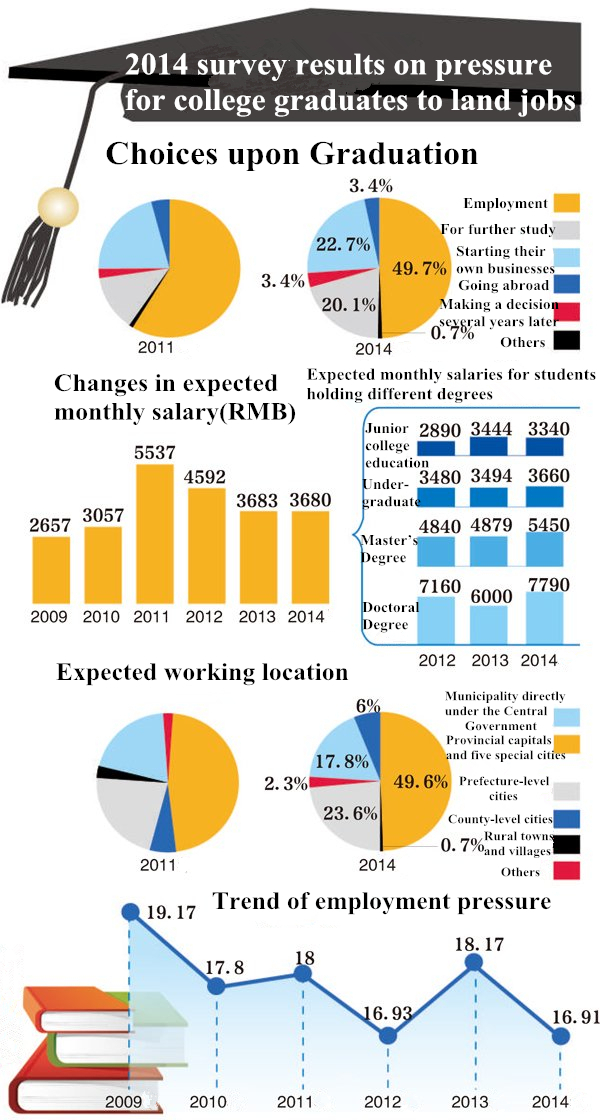 A recent survey showed that college graduates expected their salary to stand at 3,680 yuan ($589) per month on average, the lowest level in the past four years, as the number of new graduates topped seven million for the first time in 2014.
Although the number of graduates hit a new record high this year, the employment pressure declined, according to the survey released on Tuesday.
This was the sixth consecutive year for Beijing Youth Stress Management Service Center to publish a survey on pressure for college graduates to land jobs. The survey this year collected 8,193 valid answers on a sample of 9,659 people.
An expert attributed the decline in employment pressure to lower expectations. "Higher expectations often bring about bigger pressure, while more reasonable expectations could reduce pressure," said Xiong Hanzhong, head of Beijing Youth Stress Management Service Center.
Their expected monthly salary hit a record high in 2011, reaching 5,537 yuan. In the following two years, the figures dropped by almost 1,000 yuan each year, which was 4,592 yuan in 2012 and 3,683 RMB in 2013. Compared with 2011, their expectation for salary has lowered by nearly 2,000 yuan.
The survey showed that 49.6 percent of the surveyed graduates wanted to work in provincial capitals and the five developed non-capital cities (Dalian, Qingdao, Ningbo, Xiamen and Shenzhen). Prefecture-level cities were their second choice, favored by 23.6 percent.
17.8 percent would like to work in municipalities like Beijing, Shanghai, Tianjin and Chongqing. Only 6 percent students would take a job in county-level cities and 0.7 percent in rural towns and villages.
Experts from the center said that although local governments have launched a series of policies to encourage students to work in counties and rural towns, these measures didn't seem to be appealing enough to them.
Compared with last year, the number of graduates who wanted to start their own business and go on to graduate schools for further study has increased, accounting for 22.7 percent and 20.1 percent, respectively. In fact, less than 2 percent of college students have realized their dreams to start up their own businesses. Experts called for the government to roll out more favorable policies for these students.