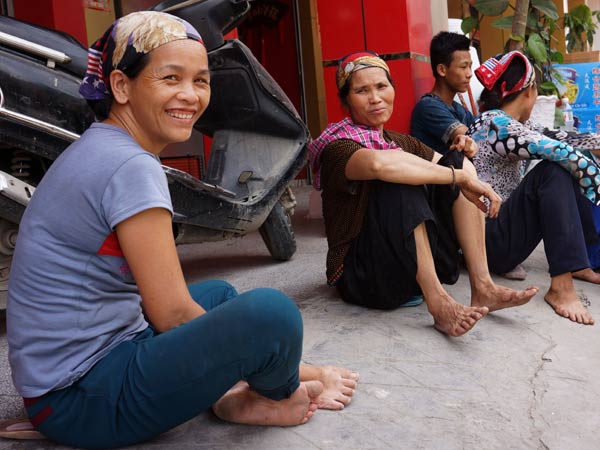 Women from a Vietnamese town by the Puzhai checkpoint take a break from their labors. [PHOTO BY HUO YAN / CHINA DAILY]

Flow of tourists and trucks dries up at once-busy crossing, report Yang Yang and Huo Yan in Pingxiang and Dongxing counties, Guangxi Zhuang autonomous region
It was not even the end of May, but the fierce early-summer sun and high humidity made Friendship Pass in the Guangxi Zhuang autonomous region almost unbearably hot.
The pass, one of the major tourist and cargo routes between China and Vietnam, was usually filled with cars and trucks. Recently, however, the flood of tourists and vehicles has trickled to a standstill.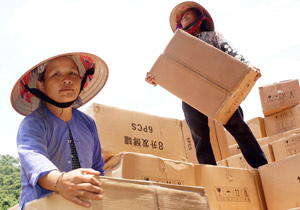 Vietnamese women unload boxes of glass jars from a truck in Puzhai town, Pingxiang county, in the Guangxi Zhuang autonomous region.[PHOTO BY HUO YAN / CHINA DAILY]
A couple of Chinese took a sweaty stroll around an almost-deserted park before resting in the shade of a huge banyan tree that faces the symbolic Friendship Pass Tower. In the almost deserted parking lot, taxi drivers competed for trade among the few visitors, as two locals, a man and a woman, sat and ate their lunch. Occasionally, a dozen or so people arrived and went through the tower gate, which leads into the pass. They waited patiently at the security checkpoint that leads into Vietnam. Very few people were traveling in the opposite direction.
Just a 10-minute drive away is the largest Sino-Vietnamese cross-border trade zone at the Puzhai checkpoint. Once, trucks loaded with mahogany, finished and semi-finished goods, and fruit and vegetables from Vietnam plied the route, causing frequent traffic jams.
However, the volume of traffic fell dramatically when a UNESCO ban on the cross-border transportation of mahogany came into force on April 1. Meanwhile, the recent spate of anti-Chinese protests in Vietnam has further reduced the meager flow.
"The traffic has dwindled noticeably", said Lu Lidan, a 24-year-old sales clerk who has worked at a nearby store for a year, selling Vietnamese products such as wooden handiwork, snacks and balms. She attributed the lack of activity to the end of the season for some fruits, adding, "It's the low season for tourists, too."
A little further down the street, a truck from Linyi in the eastern Chinese province of Shandong was parked in front of a shop. A dozen Vietnamese women were busy unloading boxes of empty glass pickle jars destined for Vietnam.
"They come from the Vietnamese town at the other end of the pass. They come over here to make money because they have no work at home," Lu said.
The truck driver said that when the jars were unloaded, he would fill the truck with Vietnamese vegetables such as peppers and take them to Shandong, where demand is high.
By 2 pm, it was too hot to work, so the women took a break. They sat in the corridor and chatted quietly.
Anxious customers
Pingxiang county in Guangxi Zhuang, a five-minute drive from the Puzhai checkpoint, is China's largest market for mahogany products. Wu Mingdong and his older brother, Wu Wenhe, have been running their wholesale outlet Hefa, meaning "Peaceful and Prosperous" in Chinese, for five years. Statues of the Buddha, carved from 3-meter-long pieces of mahogany, stood in front of the door. The brothers come from Hai Duong, a city near the Vietnamese capital of Hanoi, but, like many of their compatriot traders, they have adopted Chinese names.
"Business here is good and we recently expanded the shop," Wu Mingdong said, adding that his brother was in Vietnam collecting items they had ordered. "We are running our business as usual, completely unaffected by the protests in Vietnam," he said.
Across the street, Hu Zhenxiu was at work in a shop called Jubao, or "Gathering Precious Objects". She said the protests that erupted from May 13 to May 15 had scared some customers away.
"Recently, some long-standing (Chinese) customers called and asked whether it was safe for them to come and buy mahogany. They were very concerned, but I told them it's safe to come here," said the 20-year-old.
Her colleague, Fan Suqing, 32, from Hunan province, said, "The number of people coming here has fallen in the past few days. We usually import our products from Vietnam, but we've stopped going there for the time being because of the protests. However, I think that in a week or so, the situation will cool down and we will go back."
Ding Jinxing and her husband have run their 400-square-meter shop in the China No 1 Market for Mahogany Products for three years. Ding was in Hanoi, in the north of Vietnam, when the protests started.