Technology faces up to a question of identity
Facial-recognition use grows as accuracy rises, cost declines
Wei Xiaoyong, an associate professor at Sichuan University, used to worry about taking roll call for his class of 100 students.
"It is time-consuming. But students who attend classes every day say it is unfair if I do not do it."
Wei eventually found the solution - a face recognition system.
With the system, all he has to do is to use an ordinary pocket camera to take a picture of the class. Wei then uploads the picture and the computer will automatically find out who showed up for class.
Wei has not noted a single absence since he started using the system.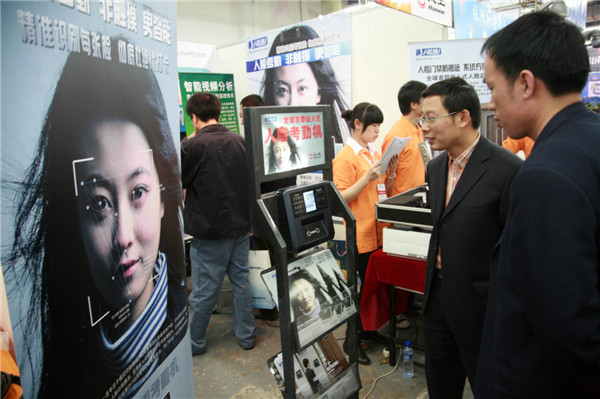 An attendance checking and access machine, based on face recognition technology, being displayed at an exhibition in Shenyang, Liaoning province, on April 23, 2009. Huang Jinkun / for China Daily
The technology is set to challenge fingerprint and other methods of identification.
According to Bosi Data R&D, a Beijing-based consulting company, the market for face recognition was worth about 670 million yuan ($108.64 million) in 2010 and is expected to increase to 1.4 billion yuan by 2015. Public security and customs are the main areas where it is employed, but its use is set to expand.
The technology used for security and that used for checking-in systems share the similar technical procedures. Both include photo capturing, pre-processing, feature locating, offline registration and online template matching.
However, an engineer specializing in the technology insists that any application for security demands even greater accuracy.
"Security use always requires a more rigorous operating environment and increased accuracy, therefore, more complex core algorithms are used," said Zheng Nanning, a top artificial intelligence scientist in China, and a member of the Chinese Academy of Engineering.
Face recognition has been intensively studied for more than four decades but was largely limited to the security field due to its cost.
In September, the FBI invested $1 billion on Next Generation Identification, which included plans to install "state-of-the-art" facial recognition technology across the United States.
The technology's application in civil use, for events such as concerts, means the greater accuracy can be compromised and costs reduced.
"As a result, civil-use facial recognition devices are far cheaper than those used for security, both in terms of hardware and software," Zheng said.
"Generally a new technology is often limited to military or security applications at the initial stage. But as it becomes popular, the price drops."
The price to develop a facial recognition system is low enough for the professor's roll call.
"In March 2011, I was teaching two courses, both related to face-recognition theory," Wei said.
"So I thought, Why not develop a system for the class, so that the students will have an intuitive feeling for the technology?"
Developing such a system took only a month for Wei and four members of a research team. Operating costs are merely renting a server for a roll-call website.
The system can be set up in easy stages. First, the lecturer takes photos of the whole class from different angles. Then the computer analyzes the photos, and "recognizes" the faces. The third step involves students giving details, such as age and class number.
Once this is done, the computer can see and recognize each student.
"This system suits the classroom, which is a relatively closed environment and not many unfamiliar faces will enter. For open public spaces, the facial recognition will be far more complex," Wei said.
These are obvious applications for those manufacturing systems to prove attendance in areas bigger than classrooms, said Xing Peng, marketing manager at Hanvon, a recognition technology company.
"As far as I know, fingerprint technology accounts for around 80 percent of the market, while face recognition only accounts for 15 percent. But the market outlook is promising."
Face-recognition technology is already used by global technology giants such as Google.
In as early as 2011, Google announced it was developing a recognition mobile app that allows users to snap a picture of a friend or new acquaintance, and then access his or her Google Profile contact information.
Chinese search engine giant Baidu also has its recognition service, which allows users to upload a picture and search for all the pictures on Baidu that include a similar face to the uploaded one.