Female members of Liaoning mark their mark
If an aircraft carrier can be seen as a micro-society, women must be a minority in terms of numbers. However, in this usually male-dominated world, the female members of the Liaoning's crew, including those from China's ethnic groups, are making their mark.
As a head of the ship's radar squad, He Xie is the only woman among the exclusively male team. But the 27-year-old college graduate cares more about improving her capabilities, along with the rest of the group, than the gender difference.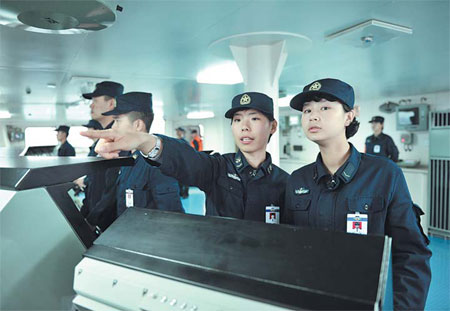 Women account for approximately 5 percent of the Liaoning's crew.
"Everyone on Liaoning has a serial number, which doesn't indicate gender," she said. "Even though I graduated as an engineering major, I still have to work hard because I'm faced with so much equipment I've never seen before."
In addition to her work at the radar post, she has also received regular training, including working with tethering cables, which are much heavier and thicker than those on smaller ships, just like every other crew member.
Dozens of women work on the ship and make up approximately 5 percent of the crew, according to Mei Wen, political commissar of the aircraft carrier.
They have their own living quarters and facilities, including laundry rooms, but when it comes to work, they are involved in almost every aspect of the ship's life and not just in "traditionally female" roles, such as nursing and communications.
The women have also brought a refreshing burst of color to the vessel. Radar operator Zhang Rui, the first graduate of Nanjing University of the Arts to be recruited as a sailor, enjoys hosting gatherings, running the aircraft carrier's newspaper and designing signs to guide Liaoning's crew around auxiliary vessels.
"Although I majored in the arts, I believe the development of the Chinese navy should be wide-ranging, including aesthetically," said Zhang, who joined the navy in 2009 when women were first openly recruited.
There are some disadvantages, of course. For example, the women often work on the lower decks where they go long periods without sufficient exposure to sunlight, which is an unhealthy situation.
"But, we still love this vessel. Some of the women even rushed back to work just three months after giving birth," she added.
For another group of women on the carrier, there is one more obstacle to be overcome: Mandarin.
The navy began enlisting women from the Uygur ethnic group in 2011, with the first batch of 12 boarding the vessel upon completion of several months of training. Those with limited Mandarin were also given language lessons.
"They practiced their Mandarin for at least one hour every evening. Now some of them are phone operators on the carrier and nobody can tell they are from the ethnic groups just from their voices," said Zhang.
Many provisions have been made for women and members of the ethnic groups, said Dilihumaer Abulaiti, a native of the Xinjiang Uygur autonomous region, speaking in fluent Mandarin.
"The food in the ethnic restaurant was not all that good at first. But after we told the quartermaster squadron what we like to eat in Xinjiang, the food became more authentic very quickly," she said.
As a girl, Dilihumaer Abulaiti, 24, dreamed of becoming a flight attendant and was puzzled "why girls joined the army", even through her father was a soldier.
"But I gradually learned the responsibility and honor of being a solider from my father. He and the people in my hometown are so proud that I've started my military career on the country's first aircraft carrier," she said.