Talent programs on the small screen may be waning in the wake of tighter rules from broadcast regulators, but such shows are making it big among foreign students on university campuses.
"I like music and often perform songs in the dorm with my friend," said Fivaldy Halwa, an Indonesian student of administrative management at Beijing's University of International Business and Economics.
Halwa and his performing partner Ashfa Abid Suyoto won the popularity award at the university's 2012 Laowai Idol for their performance of Jason Mraz's hippie hit I'm Yours.
"I felt awesome on stage. The event allowed me to show my musical passion and boosted my confidence. I'll give it another shot when it runs next time," said Halwa, who was participating in a talent show for the first time.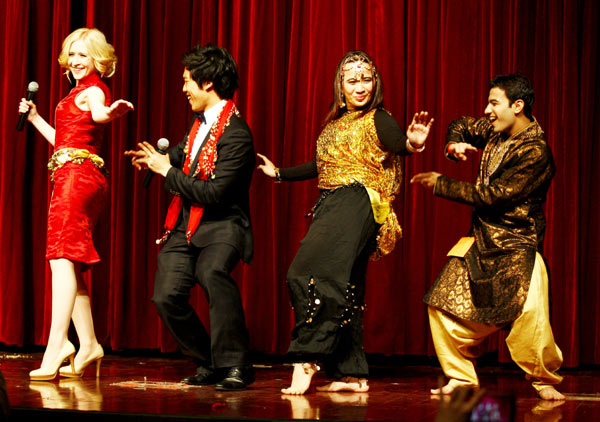 An Indian dance performed by Indian student Harshit Tailor (right) creates a sensation on stage during a talent show for foreign students at the University of International Business and Economics in Beijing. [Photo by Zhu Xingxin / China Daily]
The event, hosted by the UIBE's School of International Education, turned out to be unadulterated fun as students from countries such as Indonesia, France and the United States pitted their artistic dexterity against one another, wowing a full-house audience with hip hop dance, solo gigs and band performances.
Giang Nguyen, a Vietnamese student and president of the student union's art department, said the show, now in its third year, has become more appealing.
"Previous events were like private parties for international students, but now we have drawn the attention of and gained support from the university's authorities and Chinese students," Nguyen said.
The 2012 event also featured special guests such as Martin Cityzen, a US performer known for his modern rendition of old Chinese songs, and Ding Guangquan, a veteran crosstalk performer who has many foreign students.
About 3,000 international students from 120 countries study at the university, and helping them adapt to campus life is high on the university's agenda, said Zhao Zhongxiu, vice-president of UIBE.
"Through such activities, the university hopes to identify those foreign students with untapped talent and build a harmonious environment for them," he said.
Du Wei, who works at the international office of Renmin University of China, said many universities start such events because they not only provide a platform for foreign students to showcase their talent, but also bring joy to Chinese students.
Renmin University of China's International Student Talent Show always attracts a throng of Chinese who applaud ecstatically for a variety of performances such as skits, poem recitals and singing by the university's international students from such countries as Russia, Australia and Egypt, he said.
"It's hard to have a new talent show featuring Chinese performers, but when the stars are foreigners, there is a sense of novelty for Chinese people," he said, adding this year's event in late April will include a martial arts performance.
Shi Song, associate dean of the College of International Education of Nanjing Agricultural University, also feels a talent show is a grand gala for everybody in the university.
Last year, the university launched the first International Culture Festival, which featured a talent show that attracted the universities' international students from some 20 countries to strut their stuff.
"Many foreign students are so diligent that they spend a lot of time in the lab and classroom. It seems they are isolated from Chinese culture," Shi said.
"The festival was designed to offer foreign students a way to relax and enable them to better enjoy life in China," he said.
A plethora of acts from lion dance to traditional costume modeling also help Chinese faculty and students learn more, he said.
Last year, Ngoh Samuel Aziseh, an accounting student from Cameroon, who stood out from the university's activities with his Peking Opera performances, got a place in China Central Television's popular program Hanyu Zhi Xing (Chinese Star), a national competition to showcase student achievements in learning Chinese.
"The university's talent show brought a sense of accomplishment to many participants and enlivened the moods of many people," Shi said, adding this year's event, which will be held in October, could draw even more attention.
sunli@chinadaily.com.cn