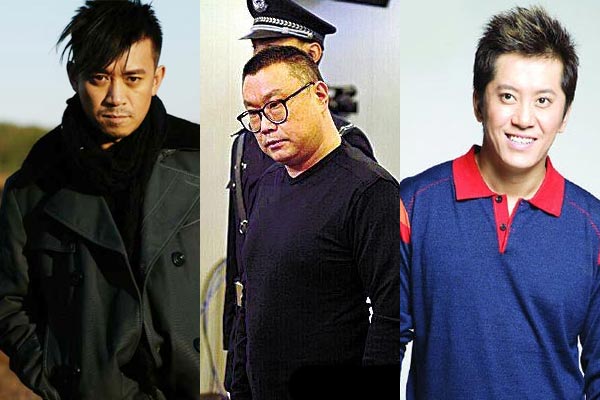 Wang Xuebing (left), Yin Xiangjie (center) and Mao Ning. [Photo/Agencies]
Steep price for getting high
Last year, Taiwan-based actor Kai Ko, Jaycee Chan, son of kung fu superstar Jackie Chan, Li Daimo, who rose to fame from reality music talent show, were just among a few who were caught with using illegal substances.
Thereafter, China's showbiz has vowed to remain "clean" and ban anyone who touches drugs from the small and big screen. Effective or not, some still didn't listen.
Actor Wang Xuebing, whose film Black Coal, Thin Ice won the Golden Bear from Berlin in 2014, was caught using drugs on March 10.
Singer Yin Xiangjie was caught with drugs on Feb 12 and sentenced to seven months in prison and fined 2,000 yuan ($308.8). Yin was released on July 24. In less than four months later, the singer was caught once more, and his urine tested positive for amphetamine. Yin revealed that he has had a history of drug use for more than a decade.
Another somewhat outdated singer, Mao Ning, was detained on Nov 27, also for using illegal drugs. Mao admitted he has taken methamphetamine, and his urine samples tested positive for the substance.
Related:
Tainted actor's film will 'not' be released
Singer Yin Xiangjie formally arrested for drug offense