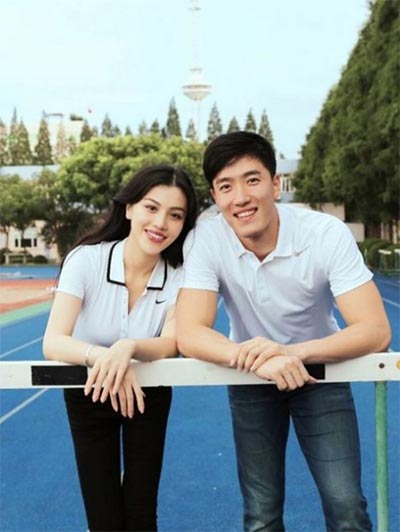 Hurdler Liu Xiang (right) and his then-wife Ge Tian. [Photo/Agencies]
Divorce of the year
Retired star hurdler Liu Xiang caused a stir on the Internet on June 25 by announcing on his micro blog that he had divorced his wife actress Ge Tian.
Liu, who won gold in the 110 hurdles at the 2004 Athens Olympics, said the couple had divorced just nine months after their wedding.
"Me and Ge fell in love with each other in May 2014 and got married in September," Liu said on his Weibo account. "Due to incompatibility in our personalities, we decided to end the marriage today, hoping we shall each have (a) more beautiful life in the future. We wish each other the best in the future."
Within two hours, more than 100,000 comments were posted by some of Liu's one million-plus followers, while the news became one of the hottest topics with more than 27 million views in just one day.
Ge confirmed the divorce in an interview on Sina.com, saying "Everything is subject to what he said."
Speculation that Liu's marriage was in trouble has been widespread in the Chinese media for some time, with commentators pointing to signs that they had grown distant from each other. After Ge starred in a controversial scene in a historical TV drama, where she pulled a grenade out from between her legs to bomb the prison cell of where her lover was kept at, her relationship with the hurdler was rumored to have worsened.
Related: