Train dual: Florals vs. omelet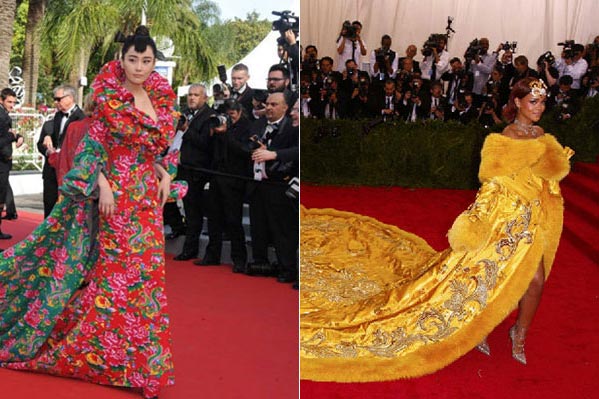 Actress Zhang Xinyu and singer Rihanna. [Photo/Agencies]
Since superstar Rihanna wore a canary yellow dress at the 2015 Met gala on May 4 in New York, the dress has been widely ridiculed online, with many Photoshopped pictures of its long and wide trail into a pizza and an omelet on a frying pan.
Coincidentally, when Chinese actress Zhang Xinyu appeared at 68th Cannes Film Festival with a traditional Chinese floral printed dress, it lit up the Chinese social media once more. Zhang was mocked for her poor taste in fashion, and her "efforts" to look like Fan Bingbing, who wore a Tang-dynasty inspired dress and a similar hairstyle at the 65th Cannes Film Festival.
Zhang revoked negative comments on her red gown. "Red and green floral prints are memories," Zhang wrote on a post in her Sina Weibo account.
Related:
To many Chinese bloggers, gowns at Met gala were fashion disaster