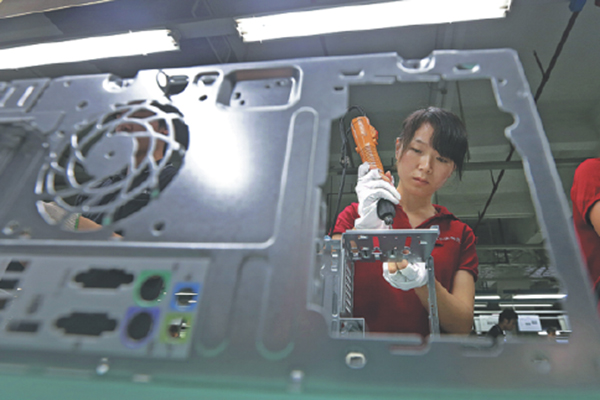 An employee works at a Foxconn Technology Group factory in Wuhan, Hubei province. [Photo/Agencies]
Apple Inc's expected September launch of its iPhone 7 series is still more than a month away, but the tech market is abuzz with talk of whether that would help bail out Apple's suppliers of parts and components.
The latter have been on a rough ride ever since the global tech giant announced a sharp drop in its January-March revenue, or its fiscal 2016 Q2 earnings.
Suppliers in Taiwan province may be in recession for the first time this year, affected by Apple's flagging performance and falling demand for smartphones globally.
But market research firm International Data Corp is bullish on the iPhone 7 series. It said Apple's suppliers will likely benefit from them.
But Jason Low, tech industry expert at Canalys, is not so sure. "As the iPhone 7 has not yet been released, we don't know whether Apple has made some revolutionary changes in design and added new functions. So we couldn't decide whether it could boost sales and have a more positive impact on its suppliers."
There are positive signs though. The Economic Daily News reported that Apple has started mass production of the iPhone 7, and some companies were hiring staff as they prepared to assemble the newest model.
The United Daily News reported that Apple has asked its suppliers to produce 72 million to 78 million iPhone 7 units by the end of this year.
The figure marks the highest yield target in the past two years, and far surpasses the predictions of Wall Street analysts, reflecting Apple's confidence that sales of its new model will beat expectations.
The United Daily News report said Apple's chief manufacturing partner Foxconn Technology Group, also known as Hon Hai Precision Industry Co, has obtained major assembly orders for the iPhone 7.
That's not all. Pegatron Corp, another Apple supplier, apparently received some orders. Apple has not offered any comment or confirmation so far in this regard.
Yet, tech markets expect the iPhone 7 smartphone and the iPhone 7 Plus phablet to sport new designs and new features. Unconfirmed market talk is one of the highlights of the iPhone 7 series will be a dual-lens rear camera.
James Yan, a Beijing-based analyst at Counterpoint Technology Market Research, estimates the upcoming iPhone 7 series should be better than iPhone 6S, considering its reported higher-level configuration.
That may not help revive Apple's declining smartphone fortunes. Its global market share dropped to 15.3 percent in the January-March quarter as growth in smartphone sales worldwide stayed nearly flat, according to IDC.
Sales of its latest flagship iPhone 6S and 6S Plus failed to reach the levels of their predecessors. Some 51.2 million units were sold during the first three months of this year, lower than 61.2 million units in the same quarter of 2015. Apple had an 18.3 percent market share then.
However, IDC estimates shipments from the global smartphone assembly firms are expected to increase slightly in the April-June quarter, compared with the previous quarter.
In the smartphone assembly industry globally, Samsung Electronics Co Ltd tops the list of shipments, followed by Hon Hai and Pegatron.