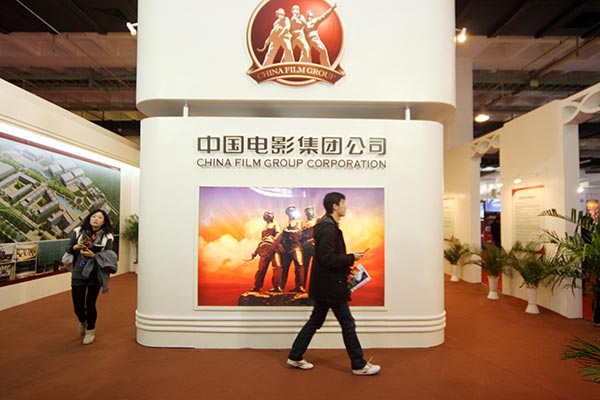 A man walks past the stand of China Film Group Corp in Beijing.[Photo/VCG]
China Film Co, the nation's largest movie distributor, is planning a 4.09 billion yuan ($611 million) initial public offering in what would be the biggest IPO in the country's entertainment industry.
The unit of State-owned China Film Group Corp plans to offer as many as 467 million shares to be listed on the Shanghai Stock Exchange, according to a filing on Wednesday. The company will begin gauging investors' interest from July 22-25 and start the offering on July 28. Proceeds will be used for movie production and investments in cinemas, according to the company.
The sale would help fuel China Film's expansion in the country's estimated $180 billion media and entertainment industry, while competing against the likes of billionaire Wang Jianlin's Dalian Wanda Group Co. Movies are among China's fastest-growing sectors as the country seeks to transform into a more consumer-oriented economy.
Chen Shaofeng, deputy director of Institute for Cultural Industries at Peking University, said: "As a State-owned company, China Film has advantages in resources and a stable business model. The weakness is that State-owned enterprises overly rely on policies."
"State-owned film companies lack content creations, and their competences are gradually falling in the industry, as private film companies are very flexible in their operations, especially in the derivative film market."
Zhu Wenqian contributed to this story.
Bloomberg