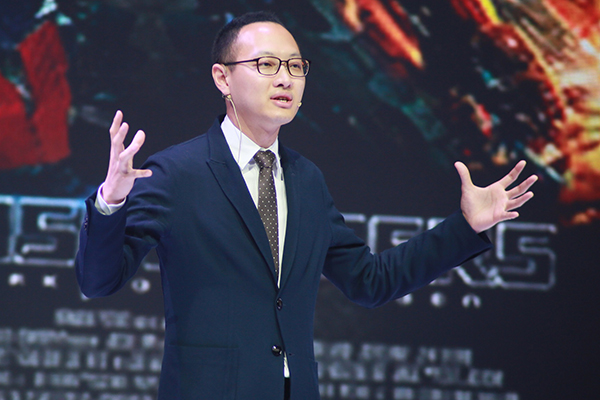 Daniel Seah, CEO of Digital Domain Holdings Ltd, introduces the company's development strategy. [Photo/China Daily]
The visual effects house behind Titanic and Transformers aims to change how Chinese audiences see videos and movies by bringing its virtual-reality technology to the world's second-largest film market.
Digital Domain Holdings Ltd, owner of post-production studio Digital Domain, partnered with leading Chinese video-streaming provider Youku Tudou Inc, to tap into Chinese consumers's growing desire for VR-enabled watching experience.
Under a three-year deal, the Hong Kong-listed firm will create VR content for all of Youku's online and mobile broadcast channels in the China market. The two sides will also jointly develop intellectual property business and 360-degree live-streaming and other immersive media experiences.
Daniel Seah, CEO of Digital Domain, said by partnering with Youku, which has a huge user base in China, the company is determined to bring the best VR content to local audience.
Digital Domain was cofounded by film director James Cameron in 1993. Since then, it has produced visual effects for more than 300 Hollywood movies, which has helped the company win nine Oscars.
In April, it spent 135 million yuan ($20 million) to acquire Post Production Office Ltd, a visual effects house co-founded by popular Hong Kong film star Nicholas Tse, marking its determination to expand its presence in the China market.
Digital Domain will also partner with Shanghai Film Co Ltd, a major Chinese theater chain, to promote the development of VR-enabled movies.
The move comes as China is expected to beat the United States as the world's largest movie market next year.
In 2015, China's box-office receipts soared to a record 44.1 billion yuan, up nearly 50 percent year-on-year, data from the Ministry of Commerce showed.
Huang Guofeng, an analyst at Beijing-based Internet Consultancy Analysys International, said Digital Domain's abundant experience in image processing and building digital human beings can help it enter the VR sector.
"But VR technology is still in its infancy, so it is way expensive to make VR movies now," Huang said. "Also, heavyweights and startups are all eyeing a presence. The competition is too intense."