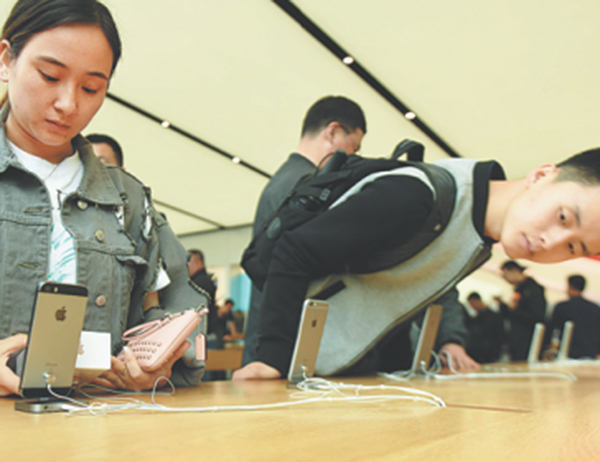 Customers try out iPhones at an Apple Inc store in Hangzhou, Zhejiang province. [Photo/China Daily]
For the first time ever, annual growth in smartphone sales is estimated to be in a single digit-7 percent on 1.5 billion units this year-down more than half from 14.4 percent last year. In 2010, the sales growth rate was a whopping 73 percent.
The projected single-digit sales growth rate is not a one-off aberration but a definite turn for the worse, a goodbye to double-digit rates, according to global market consultancy Gartner Inc.
Although sales are forecast to reach 1.9 billion units in 2020, not everything is hunky-dory in the global smartphones market.
Ranjit Atwal, research director at Gartner, is emphatic. "The double-digit growth era has come to an end."
Agreed Roberta Cozza, another research director at Gartner. "The smartphone market will no longer grow at the levels seen over the past seven years."
Reasons abound.
For one, the replacement rate is slowing as penetration rate in mature markets like North America, Western Europe, Japan and some Asia-Pacific countries has reached 90 percent. The rate will continue to slow.
"In mature markets, users of premium phones are extending life cycles to 2.5 years, which is not going to change drastically over the next five years," said Cozza.
In China, smartphone sales, after growing 16 percent in 2014, were flat last year.
"In China's saturated yet highly competitive smartphone market, there is little growth expected in the next five years," said Annette Zimmermann, another research director at Gartner.
In the January-March period, 349 million smartphones were sold in China, up 3.9 percent year-on-year, according to Gartner.
Three Chinese phone makers-Huawei Technologies Co Ltd, Oppo Electronics Corp and Xiaomi Corp-ranked among the global top five smartphone vendors, carving up 17 percent of the market for themselves.
South Korea's tech giant Samsung Electronics Co Ltd extended its lead with a 23.2 percent market share while Apple Inc trailed it with 14.8 percent.
Gartner forecasts that by 2018, at least one non-traditional phone maker will be among the top five smartphone brands in China.
"Chinese internet companies are increasingly investing in mobile device hardware development, platforms and distribution as they aim to grow their user bases and increase user loyalty and engagement," said Zimmermann.
"The global smartphone market remains complex and competitive for all mobile phone vendors, and we are not expecting the vendor landscape to get smaller," he said.