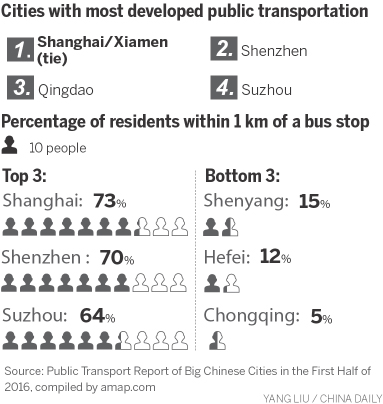 Evaluation of 20 big cities included proximity to buses, density of network
Shanghai municipality and Xiamen, Fujian province, have been ranked as the most developed and convenient cities for public transportation, according to a report issued by amap.com on Tuesday.
Twenty big cities were evaluated based on factors such as the number of bus stops and subway stations, trip cost, the total number of bus and subway lines and the density of the public transportation network.
Shenzhen, Guangdong province, was next in the rankings, while Beijing was ranked fifth. Chongqing came in last, according to the Public Transport Report of Big Chinese Cities in the First Half of 2016, compiled by map and navigation service provider amap.com.
Shanghai boasts the most developed subway system with the highest density and longest total length, with more than 600 km of track, followed by 554 km in Beijing and 278 km in Guangzhou, the top three among the 26 cities in the country with subways. Passenger capacity of Shanghai's subway system exceeded that of buses for the first time in 2014.
"Metro lines will measure 800 km in 2020 and there will be more than 500 stations on 18 routes, making Shanghai the defending champion with the most developed underground traffic system in the country," said Sun Jianping, director of Shanghai Municipal Transportation Commission.
Years of investment in the public transportation system has yielded rewards. The average mileage of a private car in the city was 32 km per day last year, an 18 percent decrease from 2009, according to the Shanghai Municipal Statistics Bureau.
The report said that Shanghai also has the most reasonable distribution of bus stops. More than 53 percent of Shanghai's residents are within 500 meters of a bus stop, which compares with 37 percent in Beijing and just under 3 percent for Chongqing. Similarly, 73 percent of Shanghai's residents are within 1 km of a bus stop, which compares with 64 percent in Beijing, and 5 percent for Chongqing.
Still, some internet users complain about traffic congestion in Shanghai.
Second-tier cities, such as Shijiazhuang; Hebei province; Chongqing, Xi'an, Shaanxi province; and Jinan, Shandong province have surpassed the major cities in terms of congestion, according to a report earlier this month by Didi Chuxing, China's largest ride-hailing business.