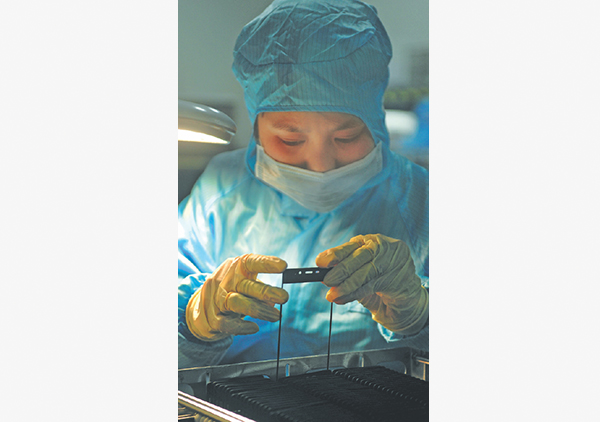 A worker tests smartphone glass cover at a Lens Technology Co Ltd plant in Liuyang, Hunan province. The Apple Inc supplier is targeting Chinese phone makers to shore up its sales. [Photo/China Daily]
Apple's sales woes are forcing hurt Chinese suppliers to explore alternative clients
Chinese suppliers of components and parts to global tech majors such as Apple Inc are seeking to redefine their businesses in order to stay alive.
Realizing that over-reliance on big clients could prove detrimental to their interests, they are forging fresh tie-ups with multiple clients across sectors.
The change in strategy follows the 13 percent year-on-year drop in Apple's January 27-March 26 revenue, or its fiscal 2016 Q2 earning, which hit the tech major's Chinese suppliers hard. It was the first quarterly drop in 13 years as sales of Apple's iPhones slipped 26 percent in China to $12.49 billion.
Consequently, revenues of Lens Technology CoLtd, which supplies glass covers to Apple, slumped 36 percent year-on-year to 2.7 billion yuan ($410 million) in the same period while its profit fell 59 percent to 165 million yuan.
Lens Technology is now cooperating with domestic smartphone brands and also tapping the automobile industry.
The company said it will systematically improve its existing equipment, build a large number of plants and increase R&D expenditure.
The Hunan-based company, which listed on the startup board of the Shenzhen Stock Exchange in March 2015, also plans to reduce the stakes held by its senior executives. Ten shareholders will offload about 737,500 shares from May to December.
This could be construed as a response to its shareholders' meeting in 2015. There, Zhou Qunfei, founder and chairwoman of Lens Technology, heard complaints that she is not interested in cooperating with domestic brands and allows the company to depend excessively on tech giants such as Apple and Samsung Electronics Co Ltd.
Some 48.6 percent of Lens Technology's revenue in 2015 came from Apple whose performance directly affects its suppliers.
Apple's woes were part of a larger trend. Shipments of smartphones worldwide in the January-March, marked the smallest year-on-year growth on record, according to a report released by the research company International Data Corp.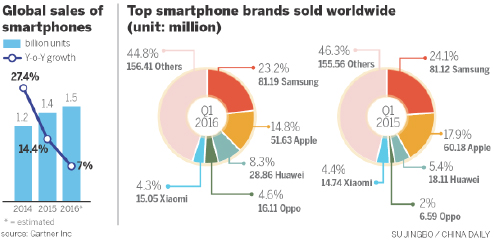 So, Apple's suppliers have begun to seek new clients, expand resources and lower the proportion of smartphone revenues in their total revenues.
Lens Technology said it will speed up technology innovation and R&D investment in wearable devices, intelligent homes and driverless cars this year.
It is also making efforts in the biometric identification technology, which could enhance the recognition rate of fingerprints and be applied in customs, and entrance and exit facilities for high-speed trains.
"As sales tend to peak in the July-September quarter, the company will see a rebound. We expect a 10 percent increase in both revenue and net profit this year," Zhou said.
The company is also aiming to offer glass covers to US electric-car maker Tesla Motors Inc.
Like Lens Technology, Shenzhen-based Desay Corporation, Apple's battery supplier, saw its January-March revenue fall (17 percent to 1.5 billion yuan) and profit plunge (34.3 percent to 38.9 million yuan).
Desay provides more than half of the battery products for Apple's iPhones. Based on its 2015 annual earnings report, orders from Apple accounted for nearly 70 percent of its total revenue.
In order to reverse the situation, the company's subsidiaries established a joint venture last year in Huizhou, Guangdong province, to produce lithium batteries for electric cars.
An unidentified senior manager of Desay told the National Business Daily that the company has decided to reduce dependence on big customers, and is expanding its business to domestic smartphone makers, such as Xiaomi Corp, Oppo Electronics Corp and Vivo Mobile Communication Technology Co Ltd.
It also made it to the supplier list of Huawei Technologies Co Ltd by the end of last year, but has not yet started supplying its products to the Chinese tech major. It plans to tap into the PC market this year.
Xiang Ligang, a telecom analyst, said Apple ought not to squeeze the prices of its major suppliers. For, if it cuts their prices, the latter may be forced to cut corners in turn, which would eventually affect the quality of Apple's products.
Xiang said whether or not suppliers' forays into automobile fields prove successful remains to be seen.
Zhu Dalin, an analyst at Beijing-based internet consultancy Analysys International, said: "The decline in Apple's revenue will undoubtedly have an impact on its suppliers, which have to seek new business growth points, developing intelligent hardware, such as VR (virtual reality) and AR (augmented reality) and cooperating with other smartphone makers."
However, the decline in suppliers' profits is temporary, Zhu said. "We could expect recovery in their profits after the release of Apple's iPhone 7 later this year."