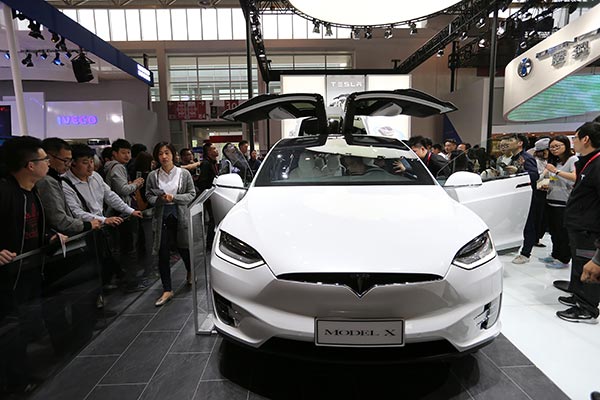 Tesla Model X attracts visitors at Auto China 2106 in Beijing, which runs through May 4. Smart and electric cars are becoming more popular in China as young customers favor greater connectivity in vehicles. WANG ZHUANGFEI / CHINA DAILY

Move signals company's drive to take smart and electric car market by storm
Future Mobility Corp Ltd, a Chinese startup aspiring to make electric and smart cars and which has the backing of Tencent Holdings and Foxconn Technology Group, has hired two senior managers from Tesla Motors Inc in its latest hunt for global talent, according to sources familiar with the company's moves.
Marc Duchesne, director of Tesla's supply chain manufacturing and assembly engineering, will join the Hong Kong-registered company as vice-president of manufacturing, said the sources, who asked for anonymity.
Paul Thomas, Tesla's senior vehicle engineering manager, is moving to Future Mobility as vice-president of engineering, according to the sources.
A spokesperson from Tesla China declined to comment on the matter.
The two hires from Tesla come less than 10 days after Bloomberg reported that three managers from BMW's i brand joined Future Mobility as vice-presidents of software and connectivity, design, and marketing.
In addition to the three BMW managers, Future Mobility has hired Carsten Breitfeld, the former project manager for BMW's i8 electric sports car, as its chief executive officer. Daniel Kirchert, the former president of Infiniti China, also joined Future Mobility as chief operation officer.
Duchesne managed Toyota's production in Canada for more than two decades before he joined Tesla in September 2011. Thomas worked at Aston Martin for over 16 years before June 2014.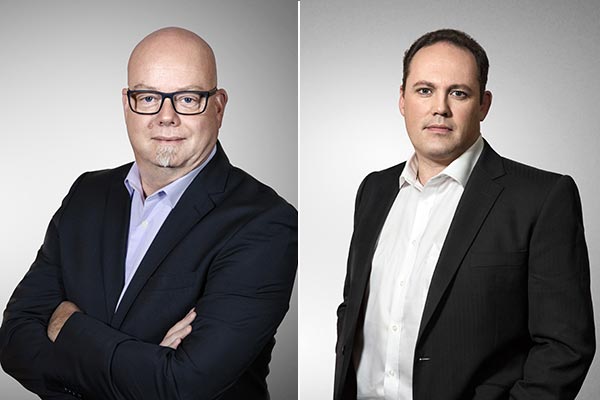 Marc Duchesne (left) and Paul Thomas.
Future Mobility, launched in February, said it plans to create "a premium brand with roots in China and a global reach". Its other parent company is China Harmony New Energy Auto Holding Ltd, a major auto dealership group. Tencent is the largest internet firm in Asia and Foxconn is a major assembler of Apple Inc products such as iPhones and iPads.
Yale Zhang, managing director of consultancy Automotive Foresight (Shanghai), said Future Mobility, which he called a "new but ambitious entrant" will continue to seek more talents from established global carmakers.
"It appears more reliable than other electric and smart car startups because it could have strong backing from three shareholders in terms of capital, internet technologies and manufacturing know-how," Zhang said.
Future Mobility plans to assemble cars in China. It will have its research and development base in Shenzhen, Guangdong province, but will also have research and development units in Europe and Silicon Valley to concentrate on powertrain and autonomous driving. It has yet to reveal details for its product plans.
COO Kirchert said on Wednesday through WeChat that "demand and experience for individual mobility will witness profound changes globally. Connectivity, autonomous driving and environmental friendliness will redefine the future of cars. We will combine internet thinking and solid car manufacturing quality. This is our unique advantage."
Popularity is growing in China for smart and electric cars as young customers favor more connectivity in vehicles and become more environmentally conscious. The government is also boosting innovation in the auto industry and sales of new-energy cars to help alleviate pollution.
The government is subsidizing buyers of new-energy cars, including fully-electric and plug-in hybrid models.
As a result, many startups are emerging to produce smart and electric cars in collaborations with traditional carmakers.
At the beginning of this month, NextEV Inc, backed by Tencent and Hillhouse Capital, sealed a 10 billion yuan ($1.54 billion) deal with Shanghai-listed JAC Motor to produce new-energy and smart cars. The first electric model will hit the market at the end of 2017.
In February, internet company LeEco, founded by entrepreneur Jia Yueting, set up a joint venture with Aston Martin to manufacture smart electric cars. The first model, the Rapide E, will be launched in 2018 with powertrain and connectivity technologies from LeEco.
LeEco also plans to produce smart and electric cars under its own LeSEE brand. It unveiled a LeSEE concept car during the ongoing Beijing auto show.
LeEco has recruited a slew of executives from traditional car companies since last year, such as Zhang Hailiang, former vice-president of SAIC Motor, China's top auto group. Zhang joined LeEco earlier this month as the company's president and COO in China.
Last year, sales of new-energy vehicles in China more than quadrupled to 331,000 units, according to the China Association of Automobile Manufacturers.