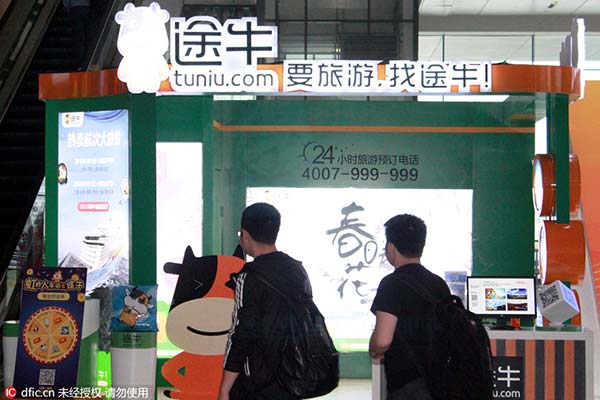 Chinese visitors walk past the stand of Chinese online travel service Tuniu.com during a fair in Nanjing city, Jiangsu province, 27 May 2016.[Photo/IC]
BEIJING - Chinese online travel agency Tuniu is taking on rivals Ctrip and Qunar for a bigger share of the country's online tourism market by expanding its services to flight and hotel bookings.
Over the past ten years, Nanjing-based Tuniu has focused on providing leisure travel services, which include helping travelers book tickets to tourist sites, local transportation, package tours and itineraries at destinations both in China and abroad.
Online travel agencies like Tuniu have boomed with the growth of China's middle class. According to research firm Analysys, Tuniu was ranked as the second largest online leisure service provider in 2015. The company had a market share of 23.1 percent, slightly lower than the 24.6 percent held by Ctrip, according to Analysys.
Having closed the gap with Ctrip in leisure travel, Tuniu has become more outspoken about its ambitions to enter the airfare and hotel booking business, which have earned rivals Ctrip and Qunar their dominance in the market today.
Tuniu co-founder Donald Yu said at a press conference this week that its expansion into flight and hotel reservations will help better serve customers who have booked other travel services through Tuniu.
Tuniu's inroads into services dominated by bigger rivals also come as China's biggest airlines try to sell more tickets directly, rather than paying a commission fee for sales through web services.
Last year, China's state assets regulator mandated that the country's three State-owned airlines raise their share of direct ticket sales to 50 percent in the next three years, compared with less than 30 percent currently. The regulator also ordered commission fees paid to agencies to be halved from 2014 levels. These changes are set to hurt online travel service providers that have relied on plane tickets as a significant source of revenue.
Earlier this year, the country's largest airlines stopped selling tickets via Qunar's online booking platform, citing complaints from customers over issues such as imposing additional costs for flight cancellation and rescheduling, penalties and pricing.
Qunar's sparring with major airlines has affected its ticketing business and bit into revenues. Flights and related revenues at Qunar slid 12 percent to $86.57 million during the first quarter this year from the fourth last year.
Airfares now account for the largest share of China's online travel service market, at 58.3 percent last year. Hotel booking came in second at 20.8 percent, according to data compiled by consultancy iResearch.
However, the share held by flights has declined steadily over the years as leisure travel services emerge as a promising business for online travel agencies. Leisure travel services are expected to account for 18.7 percent of the market this year, up from 16.2 percent in 2015, iResearch said.
Yu said tickets sales through online travel agencies still appeal to customers, despite airline efforts to divert sales away from agencies. "Consumers don't necessarily go for a particular airline when they buy tickets. What they want is comparison and also discounts that come when flights are bundled with other travel services," Yu said.
In the first quarter this year, Tuniu's "other revenues" category, which includes its air ticketing and hotel booking business, shot up 506.9 percent year on year to $10.5 million.
The company also disclosed that the volume of air ticket transactions during the second quarter rose nearly 13 times from the same period a year ago as more airlines sign up to sell tickets through the company. Hotel bookings during the first half of this year rose 11 times for domestic bookings and six times for overseas reservations.