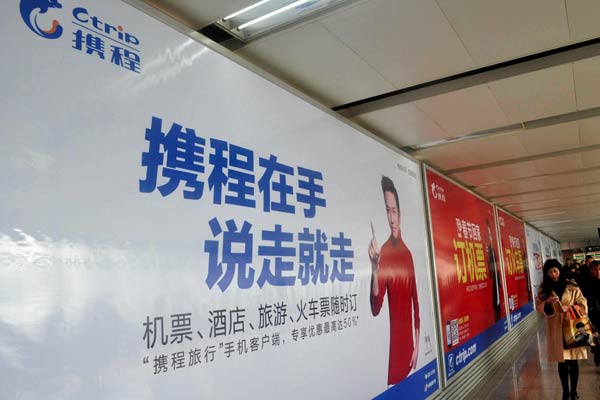 Billboards for Ctrip.com International Ltd in Shanghai. The company's sales and marketing expenses increased to 598 million yuan in the third quarter. Yan Daming / For China Daily
Online travel firms are set to up the ante with a slew of promotional prices and other incentives as the battle to grab a slice of the huge outbound tourism pie in China intensifies, industry sources said on Thursday.
Ctrip.com International Ltd, China's largest online travel agency in terms of market value, plans to invest 1 billion yuan ($162.47 million) next year to take on the competition, according to Liang Jianzhang, its chairman and chief executive.
The company will launch a huge promotion laced with special discounts on Dec 12 and make it an annual event, Liang said, with an eye on growing market share and profit.
The price war among Chinese online travel agencies has intensified in the last two years and some main players have lost a lot.
The net loss of eLong Inc, the second-largest online travel agency and main rival of Ctrip, stood at 168 million yuan in 2013, largely due to the steep price discounts it offered.
That situation has not changed much for the company and its net loss stood at 58.3 million yuan during the third quarter of this year, despite the fall in sales and marketing expenses during the period.
During the third quarter of 2014, Ctrip's sales and marketing expenses increased by 69 percent over the corresponding period in 2013 to 598 million yuan.
Wei Changren, general manager of Ctcnn.com Inc, a company that provides analysis of the online tourism sector, said: "The price war is expected to continue for another five years as the gap in market share between companies is relatively small."
The competition will be even more fierce next year, as the players will all try their best to grab more market share, Wei said, adding that much of the action would be in the outbound tourism sector.
According to the National Tourism Administration on Wednesday, the number of Chinese people going abroad exceeded 100 million by November.
Zhang Jilin, the administration's spokesman, said: "It is a milestone for China's tourism industry."
Meanwhile, some online travel agencies have already started drafting plans to tap into the growing market, although Chinese online companies account for just 17 percent of the entire tourism market.
Tongcheng Network Technology Share Co Ltd, an online travel agency based in Suzhou, Jiangsu province, released a letter of challenge on Tuesday to Tuniu Corp, another tour-booking website focusing on outbound tourism products with special prices.
Liu Qing, CEO of Tongcheng's outbound tourism department, said in the letter that the agency will serve more than 1 million outbound travelers in 2015. "Our outbound tourism business will surpass Tuniu in terms of scale after 12 months," Liu said in the letter.
The letter follows Tuniu asking its suppliers to offer higher prices or not provide resources at all to Tongcheng in November.
Tongcheng, which got funding several times this year, has amassed a huge war-chest to take on competition and this has made Tuniu nervous, as outbound business accounts for a huge chunk of its profit, said industry sources.