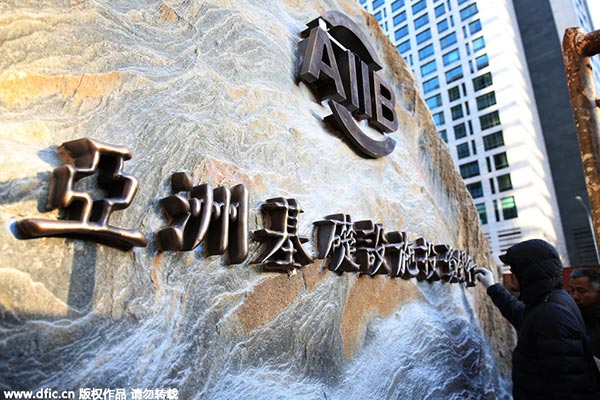 A Chinese worker installs signs on a giant rock in front of the headquarters building of the Asian Infrastructure Investment Bank (AIIB) in Beijing, January 12, 2016.[Photo/IC]
The Asian Infrastructure Investment Bank has appointed two former senior officials from Japan and the United States to its international advisory panel, a source from the bank told China Daily on Thursday.
The US and Japan have declined to join the Beijing-based bank.
Yukio Hatoyama, a former Japanese prime minister, and Paul W. Speltz, former US executive director and ambassador to the Asian Development Bank, will join the panel, said the source, who spoke on condition of anonymity. The panel will advise the bank's president on issues of strategy, policy and operation, the source said.
The panel will be made up of former senior government officials and international experts.
The move is the latest sign that the bank is seeking to strengthen its operational independence and transparency through a multilateral approach.
Meanwhile, the AIIB has posted four job vacancies on its website, including that of vice-president of finance and director general for risk management.
South Korean media, quoting government auditors, have reported that Hong Ky-ttack, the bank's current vice-president and chief risk officer, is suspected of involvement in an accounting scandal at Daewoo Shipbuilding&Marine Engineering while he was chairman of the Korean Development Bank. Hong asked for a six-month leave of absence, which started on June 27.
Hong's leave has stirred speculation that South Korea might lose its influence at the bank. The country is a major shareholder of the AIIB after China, India, Russia and Germany.
The appointment of the next vice-president will be based on merit, and the position is open to all member countries, according to the source.
The bank would consider the candidates' nationality only under the circumstance that all candidates are equally qualified, the source said. The deadline for application is July 29th, and the announcement of the new vice-president will be made in mid-August at the earliest, the source said.
Xu Hongcai, director of the economic research department at the China Center for International Economic Exchanges, said the AIIB will face a greater challenge appointing both professionally and ethically qualified officials in the future.