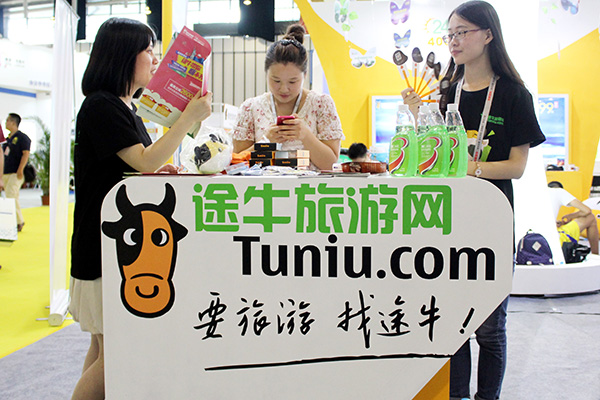 A Tuniu Corporation stand at a tourism event in Nanjing, Jiangsu province. Tuniu is one of the largest online travel agencies in China and is listed on the Nasdaq stock exchange in New York. [Photo/China Daily]
HNA Tourism Group, a unit of HNA Group, said on Monday that it was buying a 24.1 percent stake in Nasdaq-listed online tourism firm Tuniu Corp for $500 million, as consolidation moves gathered pace in China's tourism sector.
Yan Haifeng, chief operating officer of Tuniu, said the transaction is expected to close next month, adding that it would use the $500 million for developing resources at its tourism destinations.
The transaction is a milestone for the company as it comes close on the heels of a staggering 433.7 million yuan ($67.85 million) net loss in the third quarter of 2015, despite a 127.5 percent rise in net revenue during the same period.
Tuniu's losses have been mainly due to higher expenditure on product development, sales, marketing and management, according to Wei Changren, general manager of CTCNN com Inc, a consultancy focused on the online tourism sector.
Since Tuniu was unable to get the largest market share in China's online leisure travel sector yet, it has become an attractive acquisition target, Wei said.
Leisure travel has become the next main battlefield for online travel agencies in China, after Ctrip.com International Ltd, China's largest online travel agency, acquired shares in eLong and Qunar Ltd.
Earlier reports said that Ctrip and Tongcheng Network Technology Co Ltd were in independent talks for share purchases in Tuniu. The same was, however, denied by Tongcheng.
JD.com Inc was the largest shareholder in Tuniu with a 27.5 percent stake and its share will fall after the new transaction.
HNA Tourism will provide Tuniu with access to its airlines and hotels resources at a preferential rate, according to the two side's strategic cooperation agreement. Tuniu is also expected to acquire about $100 million worth of products and services from HNA Tourism in the next two years.
HNA Tourism is the parent company of Capital Airlines, HNA Hospitality Group and Deer Jet, all of which have rich tourism resources.
Yu Dunde, co-founder, chairman and CEO of Tuniu, said: "As Tuniu continues to increase its direct procurement, HNA Tourism's airlines resources will significantly enhance our ability to connect our network of departure cities to our constantly growing portfolio of destination offerings."
HNA Tourism has not had a strong online platform to integrate its resources, and Tuniu may be an opportunity, as most of the other major online travel agencies all have strong shareholders.
Ctrip holds controlling interests in eLong and Qunar, the second- and third-largest players in the market. It is also the second-largest shareholder in Tongcheng, the third-largest online agency.