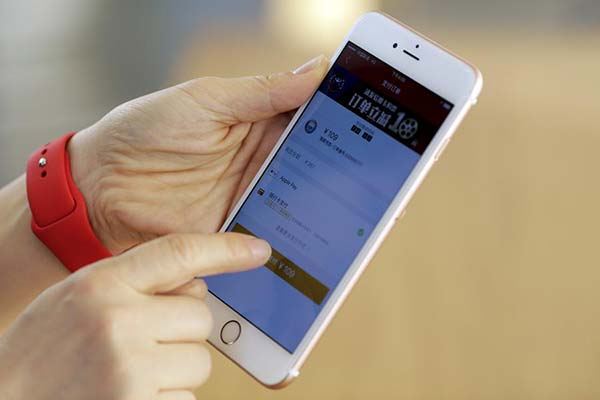 An employee uses an Apple iPhone to demonstrate to reporters how to pay using the Apple Pay service at an Apple store in Beijing, Feb 17, 2016. [Photo/Agencies]
The Chinese internet security market is expanding rapidly, riding the crest of the wave of now overwhelming use of mobile devices by consumers, attracting in the process new overseas players who are coming to the country with high hopes for success.
IT security company ESET, based in the heart of Europe in Bratislava, Slovakia, is one of these ambitious players. Established in 1992 and known for its anti-virus and firewall products such as ESET NOD 32, the company is thinking of setting up offices in China in the near future to better serve the local market, according to Lukas Raska, chief operating officer of ESET Asia Pacific.
"Even though the global internet security market declined last year due to the contraction of personal computers, we still managed to reach 15 percent annual growth rate in China in 2015, which was higher than the industry average," he said.
At present, ESET is not one of the top 5 players in the Chinese market, but it has ambitions to change that. The company opened its Asia-Pacific headquarters in Singapore in 2010 in the hope of getting closer to users in China and having a better knowledge of the demand in China.
While most Chinese users tend to opt for free security products nowadays, a trend that started six years ago, Raska said his group only offered paid products in the Chinese market right now, a rule they will not comprise.
He said that in this sense, the company is targeting high-end customers and corporate users such as Tsingtao Brewery Co Ltd and Tsinghua University. Opportunities in the premium market are what ESET is looking for in the Chinese market.
Apart from providing localized products, ESET also plans to "integrate software with hardware", a solution Raska pointed out might work better for the Chinese market.
"As the number of devices and operating systems grows, the complexity of cyberspace security also increases," he said.
Wu Jianping, a computer science academic at the Chinese Academy of Engineering, said that the Chinese internet security industry still has a way to go to develop its core technology, while the industry was also short of reliable talent.