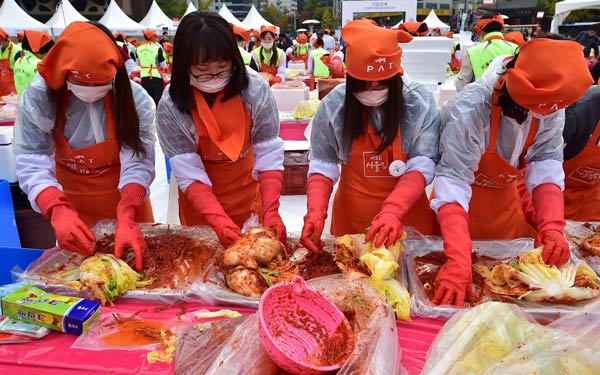 Participants take part in a kimchi making event during the Seoul Kimchi Festival outside the city hall in Seoul.[Photo/China Daily]
Coastal cities in Shandong province are cashing in on the China-South Korea Free Trade Agreement to expand business in e-commerce, healthcare, creativity and high-end maritime equipment manufacturing.
The FTA focuses on 17 areas, including trade in goods and services, healthcare, entertainment, investment and trade rules, as well as e-commerce and government procurement.
Huang Shuren, vice-president of Yantai International Container Terminals Co Ltd, said container throughput of the company to South Korea saw a year-on-year increase of 10 percent during the first half of this year.
"The container throughput of various kinds of products including agricultural and industrial products, as well as cosmetics and consumer necessities is expected to maintain growth during the second half of this year," Huang said.
He said one more container ship was added in the second half of last year to meet the needs of the increased business.
Yantai's development has greatly benefited from the FTA, which was signed on June 1 last year, said Zhang Yongxia, mayor of the city.
Located in eastern Shandong and close to South Korea, Yantai has become a popular destination for South Korean heavyweights, including LG Corp, Doosan Heavy Industries and Construction Co and Hyundai Motor Co.
Contractual investment from South Korea registered a year-on-year growth of 65 percent to reach $160 million during the first five months of this year, according to the commerce bureau of Yantai.
"Yantai will continue streamlining customs clearance procedures and making market access easier for foreign companies," Zhang told a group of South Korean journalists.
"South Korean signs are visible everywhere on the city's traffic boards and on officials' business cards. Big South Korean companies such as LG and Doosan have been developing well in Yantai," said Park Sae-young from the South Korean newspaper The Munhwa Ilbo.
Weifang, another coastal city bordering Yantai, saw its foreign trade with South Korea reach $1.08 billion and with Japan $2.03 billion last year.