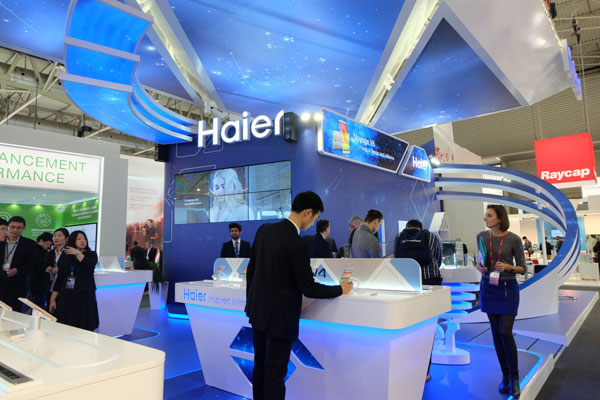 The Haier Watch, which goes on sale in the second half of 2016, can be connected to the Haier smartphone so users can remote control their phones. A view of Haier's stand at the Mobile World Congress. [Cecily Liu/chinadaily.com.cn]
LAHORE, Pakistan - Chinese home appliance maker Haier has been lighting up the lives of a lot of Pakistanis for many reasons.
"I have learnt a lot from the Chinese technicians, and my current income is enough to support an eight-member family," said Pakistani worker Shehzad at a Chinese refrigerator factory in the suburbs of Lahore.
The factory belongs to the Chinese household appliance giant Haier, which teamed with the Ruba company of Pakistan to set up the Haier-Ruba Economic Zone in 2006, China's first economic zone overseas.
"Of the total of hundreds of Pakistani workers in the workshop, only 40 can work on all the production lines and I am one of them," Shehzad said.
The refrigerators from Shehzad's factory have been specially designed for the Pakistani market, which helps to make Haier the largest foreign household appliance provider since it first entered the country in 2001.
Pakistan's temperature can reach over 50 degrees Celsius in summer, which spells an enormous demand for ice and cold drinks. So Haier has developed high-power refrigerators and freezers, which are popular among local consumers and occupy the second-largest market share in Pakistan.
Another example is Haier's washing machines. As Pakistanis are accustomed to using many blankets and wearing traditional shalwar kameez dress, which amount to quite a lot of laundry for housewives to wash at one time, Haier has enhanced the capacity of its washing machines. Moreover, Haier's washing machines have an "auto-start" function, enabling them to restart when the power supply is resumed after a power cut, a frequent occurrence in Pakistan.
Besides refrigerators and washing machines, air conditioners, TV sets and microwave ovens are among Haier's products. They are very popular among locals and account for 32 percent of the $3 billion market value of Pakistan's household appliances.
"I have bought my mom a Haier refrigerator in 2009. Despite the poor electricity supply in Pakistan which can do great harm to household appliances, the refrigerator has functioned well up to now," said Bhaddi, a resident in Pakistan's capital Islamabad.
Bhaddi added that his mother, his older sister and himself are all using Haier products.
A total of 20 Chinese technicians and 3,800 local workers are working in the Haier-Ruba Economic Zone, with a floor space of 330,000 square meters.
In the eyes of Pakistani consumers, Haier Group is not only a high-quality provider of electrical appliances, but also a contributor to the friendship between China and Pakistan.
Haier has donated 150,000 dollars to help Pakistan's flood victims in 2010. It has also provided food and built shelters for the homeless after the earthquake in 2005. Moreover, it has run a social organization which provides lengthy humanitarian aid for Pakistani hospitals.
The CEO of Pakistan's Ruba company, Javed Afridi, said that apart from Haier, his company has signed cooperative agreements with 11 Chinese-funded companies. "The China-Pakistan Economic Corridor (CPEC) is a gold mine," Afridi said.
The CPEC, a major pilot project under China's Belt and Road Initiative, highlighting energy, transport, the Gwadar port and industrial cooperation at the current stage, has formed the "1+4" layout, and will seek to expand cooperation to such sectors as finance, science and technology, education, poverty alleviation, and urban planning.