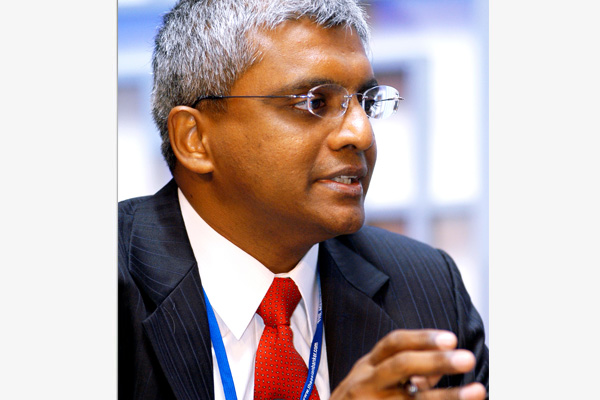 Emmanuel Daniel, chairman of The Asian Banker.
Emmanuel Daniel, chairman of The Asian Banker, a financial services industry intelligence provider in emerging markets, warned Chinese banks they could kill the innovation of fintech startups by investing in them, as the banks themselves were huge IT companies that would suck in and absorb promising startups.
Fintechs or financial technology companies are behind the so-called international fintech wave that is poised to disrupt the traditional banking business.
Fintech involves new technologies like machine learning, predictive behavioral analytics and data-driven marketing, as well as improved data analytics that help institutional clients further refine investment decisions.
Daniel issued his stark warning in an interview with China Daily, on the sidelines of the China International Banking Convention 2016 recently.
"Bank funding of fintech startups does not necessarily mean that they will flourish. In fact, the banks might well end up killing the innovation," he said.
Chinese banks' IT departments are even larger than some of the big IT companies, so they are trying to make sense of the enormous capacity they have, he explained.
"When they fund some of the startups, the startups could end up drowning in the black hole of the banks' own infrastructure.
Earlier this year, China issued guidelines encouraging banks to join a pilot program on establishing an investment and loan linkage mechanism for qualified technology startups.
By taking this step, China's banking regulator made a major breakthrough in the existing rules that prevented commercial banks from investing in non-bank financial institutions and companies. Before that, if a commercial bank wanted to invest in a company, it had to do so through a non-bank financial institution.
Xu Ningyue, vice-president of Bank of Beijing Co Ltd, said earlier this month that his bank was waiting for regulatory approval to launch an investment subsidiary to invest in technology companies with potential for high growth.
In doing this, China is actually copying the form but not the substance of what is happening in other parts of the world, Daniel said.