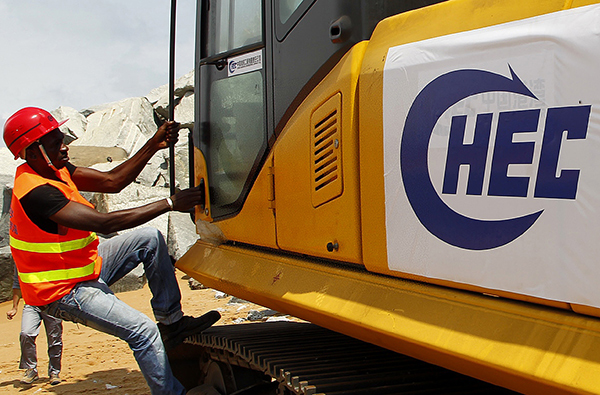 A worker with the China Harbor Engineering Co at a port construction site in Cote d'Ivoire. [Photo/Xinhua]
More than 1 million vehicles have been recorded traveling on Jamaica's costliest construction project, the North-South Expressway, since the end of March following its completion, according to a leading executive at China Harbor Engineering Co, the company that built most of it.
Lin Yichong, chairman of State-owned CHEC, a unit of China Communications Construction Co, said that as the Caribbean nation has only 1.2 million vehicles, this figure indicated the highway has worked well to improve regional connectivity in Jamaica, as well as creating more than 2,000 jobs in the services sector for local residents.
The four-lane, 65-kilometer and $732-million highway is CHEC's first overseas infrastructure project using the "build, operate and transfer" model. The Chinese company's share of total contract value was $540 million.
The highway took three years to build and connects Caymanas in the Saint Catherine region - a town about 11 km west of the capital Kingston - with Ocho Rios, in the parish of Saint Ann on Jamaica's north coast.
"The majority of countries and regions in the Caribbean rely on trade in commodities, agricultural and mining products," said Lin.
"Countries with better infrastructure facilities such as roads, airports, bridges and container ports, have more chances to increase government revenues and their standard of living."
CHEC's business in Jamaica has also included building a main road to the country's airport and other road-improvement projects, while regionally it has taken part in Costa Rica's No 32 highway reconstruction and expansion project, and the third phase of Colon container terminal project, in nearby Panama.
The company also signed an engineering, procurement and construction contract for a loading facility at a power station in Pakistan's Balochistan province, with Pakistan International Bulk Terminal Ltd earlier this month. The project, when completed, will handle 4.4 million metric tons of coal annually.
Fang Qiuchen, president of the China International Contractors Association in Beijing, which helps Chinese companies facilitate new business in overseas markets, said Chinese companies are capable of coordinating finance for projects through Chinese institutions such as the Export-Import Bank of China, China Development Bank or even their cash-rich mother companies.
"They do not generally seek sovereign guarantees when working with local partners, especially in regional markets such as Africa, Latin America, Southeast Asia and East Europe," he said.