A data service provider published its latest data-analyzing product focusing on start-up companies' performance in Beijing on Wednesday, aiming to help investors make decisions more scientifically, given that China's venture capital market has entered a cooling-down period.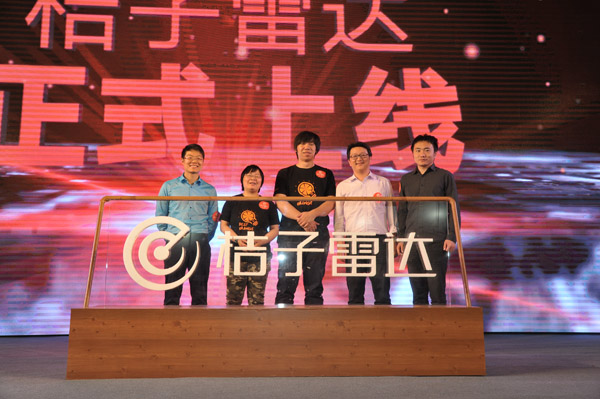 Wen Feixiang (2nd left ), founder of IT Orange, poses for a photo during the a new product launching ceremony in Beijing on May 25, 2016. [Photo provided to chinadaily.com.cn]
Such an online product will enrich the big-data analyzing tools for China's startup investing market where third-party specialized data-analyzing services are run by a few providers.
Unlike in the past couple of years, Chinese startup investors are getting more and more cautious, resulting in a slowdown on the startup front. The proportion of those who choose to start up a business among fresh graduates shrank by half year-on-year, to 3.1 percent in 2016, according to a report released in May by Zhilian Recruiting, a China-based recruitment website.
The tool named "Orange Radar" is designed to set investors at ease with a more reliable understanding of projects through big data analysis, said Wen Feixiang, founder of IT Orange, a startup companies data provider that invents the tool, at the new product launch ceremony on Wednesday.
The product will equip its customers with a Software-as-a-Service data tool and intelligent engine, enabling them to follow up on the latest state of startup companies and their financing data.
Through data collection, the company will also generate an integrated index to help investors better evaluate a startup company and unearth the undervalued ones.
"Utilizing big data will become an important way for companies to expand their client resources," said Wang Chao on Wednesday, founder of Everstring, a company providing solutions for B2B Marketing companies via big data.
It's more crucial for investors to have a data-backed comprehensive insight into an industry or startup company they are interested in especially in a period where investors are more cautious about investing in startups, said Wen Feixiang.
It is also a new attempt for the company to commercialize the data service, said Wen.