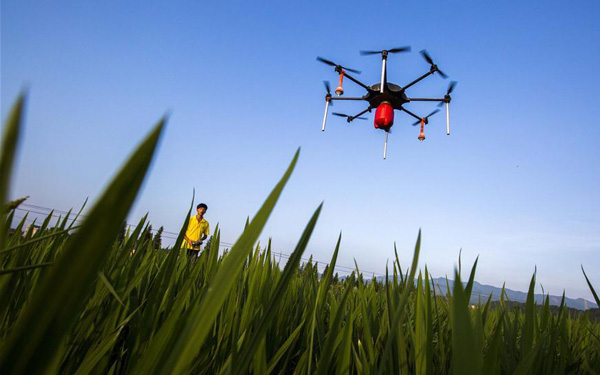 A drone sprays pesticide in a field in Duchang county of Jiujiang city, East China's Jiangxi province, July 2, 2015. [Photo/Xinhua]
Apart from the well-recognized name DJI, more than 300 Shenzhen-based drone makers are expanding their territories around the world, making the city the hub of world's civilian unmanned aerial vehicle (UAV).
"Shenzhen has become the distribution hub of the drone industry around the globe. Seventy percent of the world's civilian drone market share has been captured by the city, and more than 300 domestic manufacturers are working in the sector, generating more than 20 billion yuan ($3 billion) in sales," said a report in National Business Daily on Monday, citing Yang Jincai, director of Shenzhen UAV Industry Association (SZUAVIA).
According to Yang, 90 percent of world's drone products, especially UAVs produced for civilian customers, are manufactured in Shenzhen and shipped around the globe.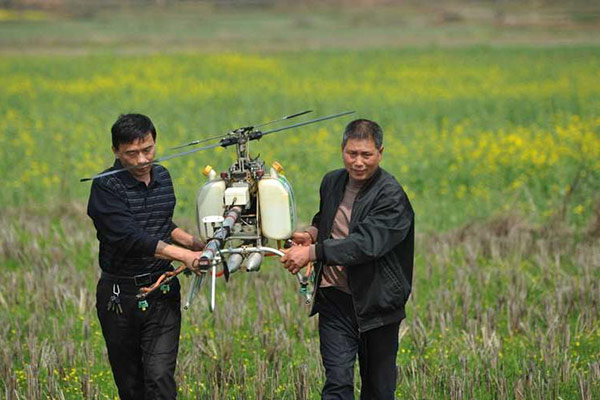 Two farmers prepare to fly a drone in a field in Changsha, Central China's Hunan province, March 20, 2015. [Photo/Xinhua]
As of December last year, the number of domestic enterprises associated with manufacturing and R&D of civilian drones have surpassed 400, with one in four making drones for agriculture and farming.
Statistics from China's Ministry of Agriculture estimated that the occurrence area of crop diseases and insect pests will reach 5.5 billion mu (3.7 million square kilometers), and if one third of the farmland is able to utilize drones to approach insect pests control services, the market scale will reach 80 billion yuan.
"In addition to the endurance and loading capabilities that are needed to be improved, the bottlenecks of domestic agriculture drone development also come from the immature market acceptance and business operating models," said Hu Xuedong, an industry insider from smart hardware department of avc-mr.com.
An exhibition titled the 5th Shenzhen International Intelligent Transportation System and Location-based Services Expo that focuses on UAV industry was held in the city through June 17 to 19. About 110 manufacturers displayed more than 230 latest drones, including fixed-wing drones, multi-propeller drones and even airships.
According to Beijing-based iResearch Consulting Group, the value of China's drone industry could rise as high as 75 billion yuan ($11.4 billion) in the next decade.
At the end of 2025, UAV will be used largely for aerial photography, farm chemical spraying, forest protection and security, it said, adding that the civilian drone market has grown more than 50 percent in recent years.