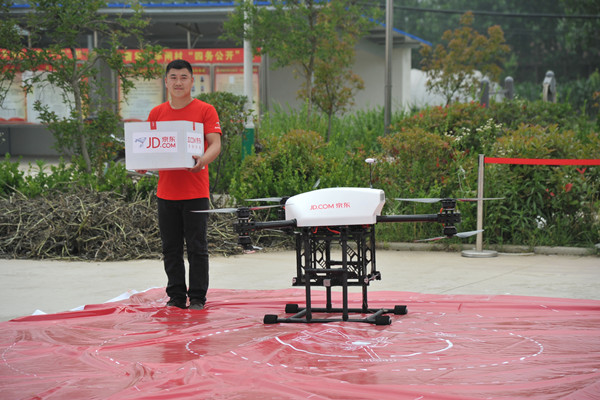 JD.com for the first time used its self-developed drones to deliver online purchases made by villagers in Suqian city of East China's Jiangsu province. JD staffer Liu Genxi, pictured, sends the packages to village shoppers after collecting the delivery from a drone. [Photo provided to chinadaily.com.cn]
JD.com Inc successfully used drones to deliver online purchases to rural shoppers in Jiangsu province on Wednesday, kicking off the e-commerce giant's trail operation of using unmanned aircraft for "last mile" distribution.
The drones developed by China's largest online direct sales company can fly up to 10 kilometers to deliver goods from a local distribution center in Suqian city of Jiangsu province to a nearby village.
"With the help of drones, rural shoppers can enjoy the efficiency and convenience of online shopping just like those in mega cities in China. And for us, using drones can significantly reduce delivery cost," said Xiao Jun, who is in charge of JD's X Lab, a business unit dedicated to adopting cutting edge technology in logistics and delivery.
Rather than using drones to deliver goods directly to shoppers, JD.com employs them to transport goods from rural distribution stations to deliverymen based in villages. The deliverymen then pass the goods to online shoppers.
Xiao said that to ensure the safety of drone delivery, unmanned craft only fly on carefully designed fixed routes.
JD received a one-year license to fly drones in Suqian city and the company is applying for licenses to fly drones in other four provinces in China in a bid to expand the service, Xiao said.