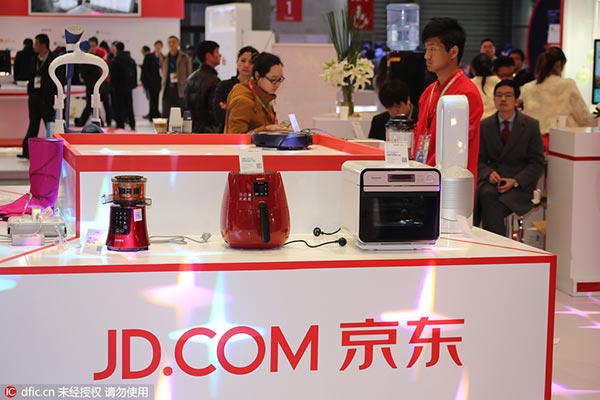 Visitors look at home appliances on display at the stand of Chinese online retailer JD.com during the Appliance & Electronics World Expo 2016 (AWE 2016) in Shanghai, 9 March 2016.[Photo/IC]
Chinese e-commerce giant JD.com Inc announced the launching of its June 18 anniversary shopping spree of 2016, which is called "quality carnival" for the first time, on Wednesday in Beijing.
The five major product categories include 3C products, home appliances, consumer goods, clothing and home furnishing, and fresh food, which are going to launch their special promotions from June 1 to 20.
With a slogan of "buy good quality at low prices" JD.com's annual event organizes a quality alliance with 34 international brands and more than 400 quality brands including Huawei Technologies Co Ltd, Zhuhai Gree Electric Appliances Inc, and Mengniu Dairy Co Ltd.
According to a 2016 McKinsey China consumer report, Chinese consumers today increasingly demand premium products and are becoming loyal to fewer brands. They are open to new brands and willing to switch to a brand outside their "short list", which means sales promotions are becoming less effective at encouraging consumers to consider them.
The event's emphasis on offering quality products rather than just low prices reveals that JD.com's strategy is consistent with the accelerating trend of upgrading consumption in China.
Promising quality from the very founding of the company, JD.com has gained a reputation in offering consumers authentic products, said Xiong Qingyun, vice-president of JD.com Inc and head of JD.com's marketing center.
Shen Haoyu, CEO of JD Mall, said after 13 years of high-speed development, relying on a technologically-driven force, efficient supply chain management, high-quality products, and good user experience, JD.com is expected to lead China into a new era of retail.
In addition, during this event, JD.com will launch a "smart store" based on its big data that can realize personalized user recommendations, which means it can offer customers precise shopping guide services suiting their consumption habits and preferences.
Online shopping sprees are getting more and more popular in China, with JD's in June and Taobao's in November as the most influential ones.
Jack Ma astonished the world again with the jaw-dropping 24-hour sales record of 91.22 billion yuan at the 2015 Tmall Global Shopping Festival on Nov 11, 2015.
Zhu Lingqing contributed to this story.