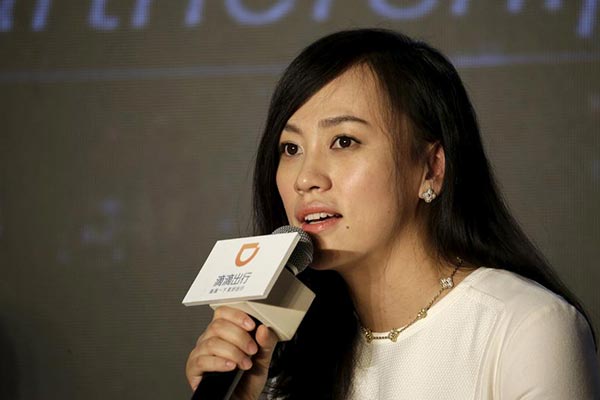 Jean Liu, the president of Didi Chuxing, formerly known as Didi Kuaidi, answers a question at a news conference in Beijing, China, January 26, 2016.[Photo/Agencies]
There's a lot of wild guessing around the possible reasons for Apple Inc's recent $1 billion investment in Didi Chuxing, China's biggest ride-sharing company, as analysts say the California-based tech giant wouldn't usually participate in a fund-raising round for a startup.
But Jean Liu, or Liu Qing, Didi's president, hinted otherwise about the company's single biggest financing to date.
"We got to know each other not too long ago, but we clicked very quickly because the two companies share a lot of similar philosophies....That gives us a lot of common ground," she told CNBC during a TV interview.
"In the meantime in China, we share a huge overlap in customer base," she said, adding that most of Didi's drivers and customers use Apple products such as iPhones and iPads. "So I think it's very intuitive."
Technology is the number one focus of Didi, Liu said, "How we can match the supply and demand - the vehicles, drivers with the passengers."
Apple could be hoping to fill the gap, said appleinsider.com, though there are a number of potential ways this might happen. On a basic level Apple might offer to integrate its devices, software, and/or services, such as Apple Maps.
According to Liu, Didi with more than 300 million users now gets 11 million rides on a daily basis in over 400 cities across China. And in Beijing alone, the rides the company undertook every day are five or six times of the entire New York ride-sharing market.
"Although the number sounds big already, it's only one percent penetration in China's whole ride market," she said.
Apple CEO Tim Cook said earlier that the company invested in Didi "for a number of strategic reasons, including a chance to learn more about certain segments of the China market."
"Of course, we believe it will deliver a strong return for our invested capital over time as well," Cook said. He paid a visit to China, Apple's second-largest market, this week on the heels of the investment.
Media reports speculated the immediate reason for Apple's "unusual" move might be about selling more products in China, as the company announced last month a 13 percent drop in latest quarterly revenue. Its China sales dived 26 percent to $12.49 billion during the same period.
The tech behemoth is also believed to have intentions to make Apple cars, probably self-driving. Selling such vehicles into the Didi fleet might be lucrative, said inverse.com.