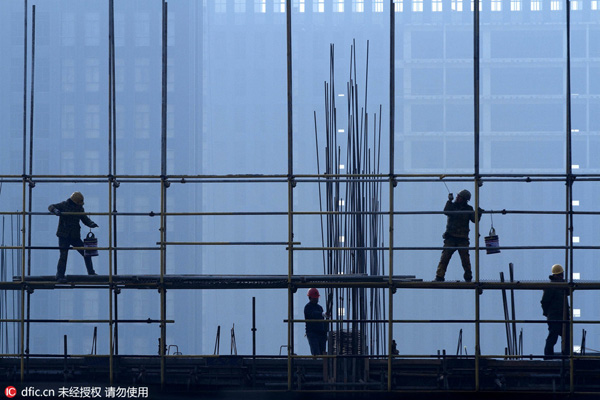 Workers work at a building construction site in Huai'an, East China's Jiangsu province, January 10, 2016. [Photo/IC]
In a bid to reduce property inventory, some provinces in China have rolled out policies encouraging farmers to buy houses, according to China News Service.
East China's Shandong province, for instance, said farmers can enjoy subsidies for deed tax and exemption of various stipulated fees for first home purchases. Counties and districts with fairly large inventory are allowed to grant subsidies equivalent to three to 10 percent of the housing purchase expenditure.
East China's Anhui province allows local governments to provide one-off reward or other subsidies for farmers who voluntarily give up their homesteads and purchase houses in cities.
Southwest China's Sichuan province also permits one-off reward for farmers buying homes in cities.
Apart from material incentives, some provinces link home purchases with the school enrollment policies. East China's Jiangsu province, for instance, asks local education authorities to arrange schooling for children of migrant workers that purchase homes in cities.
Anhui province aims to help property developers cut their de-stocking circle to as short as 15 months by the end of 2018.
Jiangsu province sets the target of controlling the destocking process within 16 months by the end of 2016.
South China's Guangdong province have made it clear that commercial housing inventory at the end of 2018 should be cut by 12.5 percent from 160 million square meters registered at the end of 2015.
Apart from encouraging farmers to purchase property, various provinces also propose developing the local home leasing market and reducing costs on home purchases.
The latest statistics from the National Bureau of Statistics show China had 727 million square meters of salable commercial houses by the end of April.
China's housing market started to warm up in the second half of 2015 after cooling for more than a year, boosted by government support measures such as interest rate cuts, transaction tax reductions and lower down payment requirements.
But the sector's recovery has been uneven from city to city, with economically strong areas reporting drastic price rises, and less developed ones showing a muted response due to a huge stock of unsold houses.