JD Smart, the artificial intelligence and Internet of Things (IoT) arm of e-commerce behemoth JD.com, unveiled imported smart hardwares at the 2016 Consumer Electronics Show Asia (CES Asia), which began on Wednesday, aimed at attracting domestic early adopters to experience cutting-edge technologies in their daily lives.
Smart hardwares from a verity of areas, including kids companion robot Wonder Workshop Dash & Dot, world's first smart travel luggage Bluesmart, smart watch WithingsActivité Steel, body fat scales WithingsActivité Steel, pet toy Petcube, and kids toy OSMO, were introduced.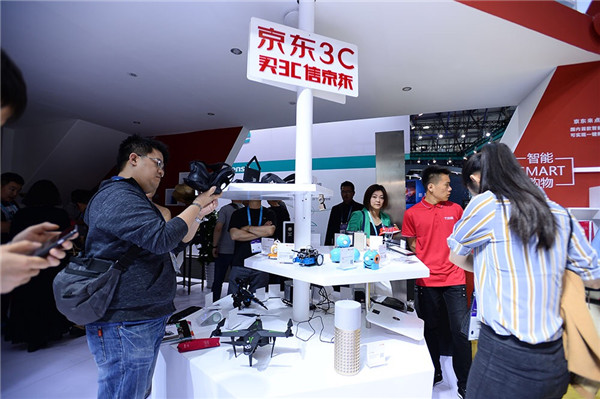 Attendees look at the smart hardware debuted at JD.com's booth of 2016 CESAsia held on May 11, 2016 in Shanghai. Photo provided to chinadaily.com.cn
Most of the products have been welcomed by foreign users due to innovative functions and problem-solving abilities. Taking the companion robot as an example, by using visualized coding approach, users are able to control Wonder Workshop Dash & Dot to make a move or speak. The product has been shipped to 37 different countries before heading to Chinese market.
Yang Qikun, general manager of 3C (computer,communications and consumer electronics) business department of JD.com, said: "Overseas smart hardwares makers, especially some small- and medium-sized enterprises (SMEs) and startups, are eager to expand their wings in Chinese market due to the larger amount of consumer base and powerful consumption demands."
Yang spent half day exploring this year's "Startup Park", which was firstly introduced at the CES Asia for both domestic and foreign SMEs and smart hardware startups, who are willing to seek business opportunities in China. "Some of them may become the next Google, Huawei and Lenovo," said Yang.
However, for overseas enterprises, the differences of business culture, registration regulations, logistics and local-customized marketing strategies between their original countries and Chinese market remain a gap and JD.com, recognized as China's largest online direct selling platform, is keen on being the bridge to support their investment requirements.
Ken Lin, director of the International Business Development (IBD) Department of JD Smart Group, also elaborated JD's hardware incubator program – PowerUP, which targets overseas technology startups, during the products launch event.
PowerUP, the program affiliated with "JD Plus", a project of Chinese e-commerce behemoth JD.com, has since February 2014 has provided integration resources services for hardware enterprises.
"PowerUP is a go-to-market program that targets overseas hardware startups with products at the ready-to-ship stage," said Ken.
JD will provide four distribution platforms for the partners who join the program, including an online community built for product trail subscribers, an online launch platform that debuts news products, a crowdfunding platform and the online shopping mall, JD.com, Ken said.
According to Ken, the program links overseas entrepreneurs with domestic investments and helps them to reach original equipment manufacturer and original design manufacturer resources and set up networks.
According to Beijing-based iResearch Consulting Group, sales revenue of China's smart hardware will reach 42.4 billion yuan ($6.43 billion), and volume will witness a fast growth in the coming three years. By 2018, it will reach 90.9 billion yuan in total.
Apart from smart hardware debut, the logistics lab of JD.com has also introduced two types of its self-made delivery drones during the event.