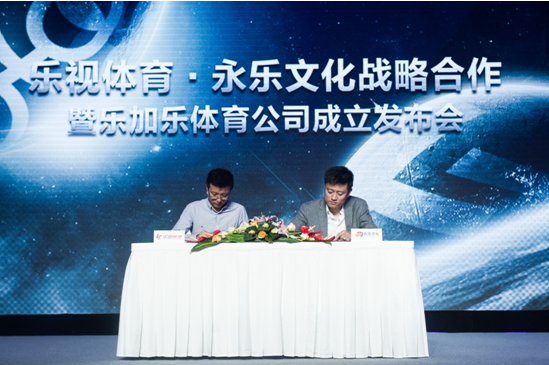 Lei Zhenjian (left), founder and CEO of LeSports and Yang Bo, founder and president of YL Entertainment & Sports, sign the cooperation agreement at the press conference on May 11, 2016 in Beijing. [Photo/Provided to chinadaily.com.cn]
LeSports, China's leading internet-based sports company, signed a cooperation agreement with YL Entertainment & Sports to establish an internet sports ticket sales company on Wednesday in Beijing.
The joint venture, named Lejiale Sports, will first test the water in the warm-up match between the Chinese national men's football team and the national men's football team of Trinidad and Tobago on June 3. It received exclusive rights to sell the tickets for the match.
Lei Zhenjian, founder and CEO of LeSports, said Lejiale Sports will become a bridge, linking the up- and down-stream industry chain of the sports sector via the internet. On one hand, it will provide a full range of business services for the match organizers and clubs. On the other hand, it offers accurate and convenient services to consumers.
According to an earlier guideline issued by the State Council, China's sports industry is expected to grow to the 5 trillion yuan in market scale by 2025, attracting both foreign and domestic investment to deploy in the sector.
LeSports made intensive steps to broaden its market share.
LeSports acquired the exclusive global broadcast rights to the Chinese Super League for the next five seasons in February, through a strategic partnership agreement with events broadcast firm Ti'ao Power. Later, it upgraded its paid membership services to win more watch-to-pay subscribers.
In April, LeSports announced it raised 8 billion yuan in Round-B financing, the biggest amount ever raised by an internet-based sports firm.