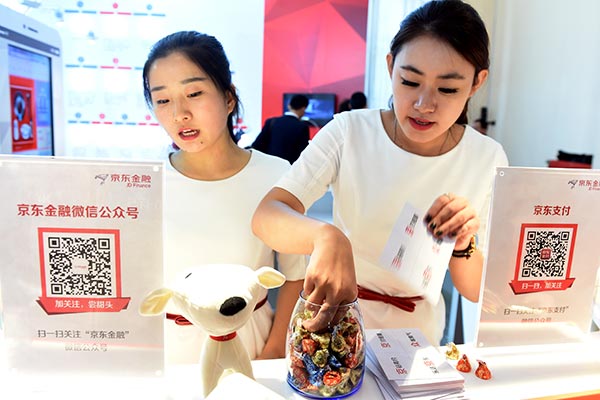 A JD Finance stand at a finance expo in Beijing. SHA LANG / FOR CHINA DAILY

E-commerce firm's platform helps new technology companies secure funding
More startups are expected to secure capital from the equity crowdfunding platform of JD.com Inc as the Chinese e-commerce major expands its internet financing business.
JD Finance, the online finance arm of the Nasdaq-listed JD, China's second-largest e-commerce player, said on Monday that it has helped 89 startups secure 1.1 billion yuan ($170 million) in funding since it launched its equity crowdfunding platform about a year ago.
As many as 23 startups out of the 89 are preparing to go public on the Beijing-based National Equities Exchange and Quotations, better known as the New Third Board, said the company at a media event in Beijing.
Jin Lin, vice-president of JD Finance, said many people said it is the "winter of capital" because the slowdown of China's economic growth has made it more difficult for startups to raise fund.
"As a matter of fact, high-quality projects are still in high demand. Investors are still competing to make investment as long as they find good projects with promising future," he said.
The platform, which is designed to match entrepreneurs who need funds and investors, is not the first equity-based crowdfunding platform in China, but JD Finance aims to make it one of the country's largest.
Liu Qiangdong, chief executive officer of JD, said earlier that the platform's goal is to support 100 companies to go public in the next 10 years.
To differentiate itself from competitors, JD Finance said it develops a "complete ecosystem for startups". Apart from providing investment, it leverages the resources of JD group, providing startups with the parent company's capability in cloud computing, financing and marketing.
Haier Xiaoshuai, a startup producing smart projector, said its valuation was boosted by four times since it started to raise investment on JD's platform.
Ma Wenjun, founder of Haier Xiaoshuai, said his company's rapid development would not have been possible without the resources provided by JD. "For example, our products made a big splash by launching on JD's e-commerce platform. The great sales online certainly helped boost the company's evaluation," he said.
According to JD Finance, it is expected match up cash-thirsty tech firms in Silicon Valley and Israel with investors on its platform.
Sun Zhaozhao, who is in charge of the platform, said the company has found that technology-driven startups can bring more steady growth in return compared with the firms driven purely by the innovation in business models.
He said the platform has a very strict process to screen investment targets.
"Less than 2 percent of the projects seeking investment are qualified to put on our crowdfunding site after our screening," he said.