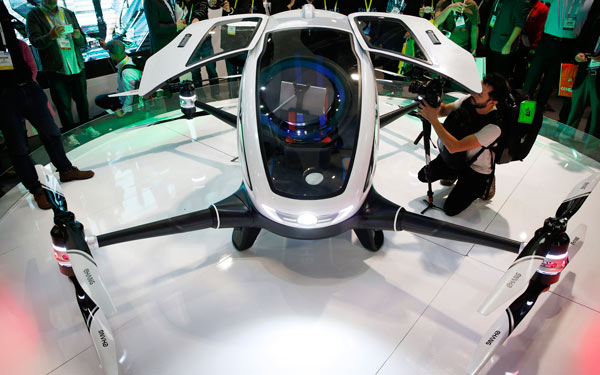 The Ehang 184 autonomous aerial vehicle is unveiled at the Ehang booth at CES International, on Wednesday in Las Vegas. [Photo/Agencies]
Ehang rolls out latest model capable of carrying passenger
Chinese drone maker Ehang Inc unveiled what it calls the world's first drone capable of carrying a human passenger at the Consumer Electronics Show in Las Vegas on Wednesday.
The company said it is anticipating large-scale commercial use of its aerial vehicle.
Ehang 184 takes off and lands vertically like a helicopter but with four double-propellers spinning parallel to the ground like other drones. Having the destination input, the automatic flight control system will choose the fastest, safest route to fly the passenger, who only needs to give two commands, "take off" and "land", on a touchscreen tablet.
The electric-powered drone can be fully charged in two hours at the fastest rate and fly for 23 minutes at sea level at a speed of 100 km per hour, according to Ehang.
The new means of point-to-point, short flights can be applied in a wide range of areas including urban traffic, tourism, logistics, emergency medical treatment and disaster relief, said Derrick Xiong, Ehang's co-founder and chief marketing officer.
He revealed that his company plans to sell the drone at a price of $200,000 to $300,000 per unit.
Xiong said that vehicle rental, taxi service, e-commerce and logistics companies had approached Ehang during the CES after the innovative drone was unveiled and grabbed the spotlight at the show.
But Xiong acknowledged that it initially may be only used in designated places such as tourist areas. A likely scenario will be flying tourists between islands.
The Guangzhou, Guangdong province-based company expects to put the passenger-carrying drone into practical use within this year, according to Xiong.
The breakthrough is likely to be made in Guangzhou or its sister city Auckland in New Zealand, for the mayor of Auckland showed interest upon hearing about the drone's concept in previous talks with Ehang, he said.
"We will make sure the use of the passenger-carrying drone is in line with local laws and regulations of where it flies," Xiong said.
"Currently there are no regulations that apply to such products because it is an entirely new category of technology. We are working closely with government agencies on addressing this big challenge in the way of the large-scale commercial use of passenger-carrying drones."
"Ehang 184 was not launched as a gimmick. We are open to all kinds of voices in the market and will keep improving the product," he said.
"Our ultimate goal is that the drone can be part of the urban traffic system, serving as a green supplement to the transportation on the ground to ease traffic jams."
Gao Yuanyang, director of the general aviation industry research center at Beihang University in Beijing, held that it is "too early" to talk about putting passenger-carrying drones into commercial use.
"I don't think it will be realized in at least the next 15 years. We need to make laws and regulations to ensure the air vehicle's safety and ponder over how to coordinate it with other means in the traffic system," Gao told China Daily.
"In China there are strict restrictions on manned general aircraft operating in low-altitude airspace below 1,000 meters, let alone unmanned ones."