The Belt and Road Initiative is an idea that has caught the imagination of the world, said Inmarsat's CEO Rupert Pearce.
The initiative offers the opportunity to build greater cooperation across Asia and Europe and to deliver unprecedented prosperity in some of the world's most populous and economically dynamic regions, Pearce said.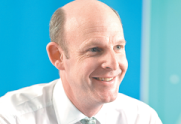 Rupert Pearce, CEO of Inmarsat [Photo/China Daily]
Headquartered in London, Inmarsat is a leading provider of global satellite communication services. The company has long been carrying out business with its local partners in the Chinese market. Inmarsat welcomed Chinese President Xi Jinping to its London headquarters during the president's state visit to the United Kingdom last year.
The Belt and Road Initiative was first proposed by Xi in 2013 to connect Asian, European and African countries more closely through infrastructure upgrading and promote mutually beneficial cooperation.
"Countries along the Belt and Road should improve the connectivity of their infrastructure construction plans and technical standard systems, jointly push forward the construction of international trunk passageways, and form an infrastructure network connecting all sub-regions in Asia, and between Asia, Europe and Africa step by step," according to an action plan of the initiative released last year by the Chinese government.
Pearce said the full economic potential of the initiative can only be realized through substantial infrastructure investment.
"China is already making substantive commitments to realizing the initiative and it is clear that foreign investors too see the long-term benefits of this globally important initiative," said Pearce.
Inmarsat has made multi-billion-dollar investment in the most advanced, globally available satellite broadband infrastructure, which Pearce said he believes is ideally placed to support the vision of the initiative.
The company has signed a memorandum of understanding with the China Transport Telecommunication and Information Center to establish a strategic partnership focused on Inmarsat's Global Xpress mobile satellite broadband communications service.
The Global Xpress is a communication service that can be used "anywhere in the world and get a data speed of 50 megabytes per second", according to Pearce. It is designed to incorporate several satellites distributed around the globe to give worldwide coverage.
"The MoU was about positioning a partnership between Inmarsat and CTTIC to deliver those services not only in China, but also across the whole of the Belt and Road regions. That is a very strategic initiative for China," said Pearce.
With the MoU signed, Inmarsat and CTTIC will also work together to provide global aviation passenger connectivity and next-generation safety services to Chinese airlines.
Pearce said the Chinese aviation market is one of the fastest-growing market in the world, and areas such as connectivity to the cockpit and for the Internet of Things, management of engines and systems, and passenger connectivity, present huge growth for satellite services.
In addition, Inmarsat has worked with its Chinese partners to integrate its satellite communication services with China's Beidou Navigation Satellite System.
A good example of the integration is that fishery vessels in Fujian province have been equipped with devices that deploy both Beidou and Inmarsat services for navigation and communication, according to Pearce.
"So you got a fantastic marriage of Chinese technology and British technology manufactured in China, going on to Chinese fishery vessels, allowing the Chinese government to track fishing vessels for safety, for regulatory purposes, to make sure they are fishing in the right area, and that the fishing stocks are preserved," said Pearce.
Aside from the possible contribution Inmarsat's satellite technology can bring to the Belt and Road Initiative, Pearce also noted that China's economic development will create more cooperation opportunities.
"We see Global Xpress ... support China's strategic ambitions. Very exciting. But we can go much further than that. There is absolutely nothing to prevent these collaborations expanding around the world. Many Chinese companies are now global companies, leading the world in the market they serve. And we are very proud to serve them anywhere in the world," said Pearce.