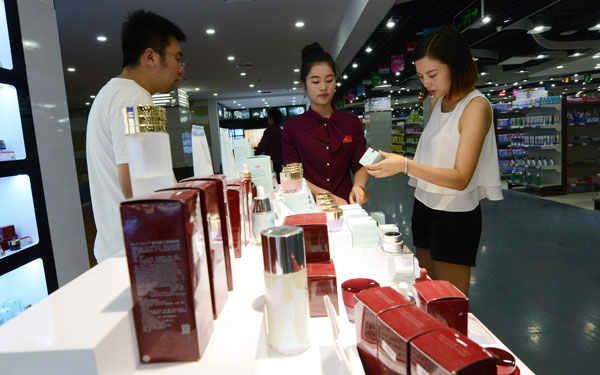 A customer buys imported cosmetics at a cross-border e-commerce experience center in Zhengzhou, Henan province.[Photo/China Daily]
As the continued depreciation of the yuan excites China's exporters, the weaker currency is putting pressure on a group of importers-overseas shopping agents and cross-border e-commerce sites.
Tasked with seeking out popular foreign products for mainland consumers, they have been feeling the pain since August when the yuan started heading south.
"It declined too fast and too much. It's hurting my business," said Wu Yao, a San Francisco-based shopping agent, adding that consumers are becoming reluctant to buy her products which now cost more.
"Cosmetics sales are hit the most, because compared with clothing and bags, they are less expensive and have lower profit margins," she said.
On Wednesday, the yuan plunged to a five-year low against the US dollar, standing at 6.5646 per dollar. This is the daily biggest drop since August when the People's Bank of China, the central bank, revamped the foreign exchange mechanism.
Betty Zhu, CEO of Momoko International Inc, a Los Angeles-based supplier of cosmetic products, said if the yuan sees substantial depreciation in the long term, it will have an even worse impact on e-commerce sites which help Chinese consumers buy foreign products.
"Currently, cross-border e-tailers are engaged in a cash-burning war. Backed by deep-pocket investors, they are building user bases with the low-price strategy. So even though the yuan declined fast, they have not raised their prices yet."
"But if the decline continues, it will definitely increase their financial burden," Zhu said. Momoko is a supplier of several online shopping platforms in China.
Tan Naixun, an analyst at Beijing-based consultancy Analysys International, agreed. "Currently, most overseas shopping agents are raising the prices of their products, but e-commerce sites have not, because they know that whoever raises their prices first will be the first to lose out."
As the country's growing middle class is turning to websites for foreign products, a flood of cross-border e-commerce sites are emerging to meet consumers' demands. But most of them are still in the red.
"The falling yuan is likely to reshuffle the industry, squeezing many players out of the market. But for companies that are good at managing supply chains and financial risks, this is an opportunity to succeed," he said.
Zhang Wei, chief financial officer of e-commerce site Mia.com, said: "The continuing depreciation of the yuan is a bad news for the entire sector. We are trying to minimize the negative impact, such as by buying financial products."