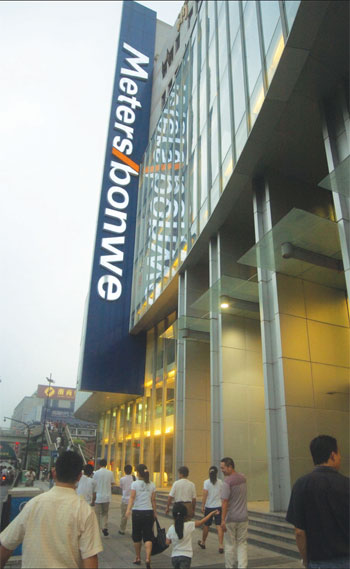 Zhou Chengjian opened Metersbonwe in the early 1990s with 200,000 yuan.[File Photo/China Daily]
Another high-profile business executive is reported to have lost contact with his employer, after being detained by the police to help with investigations into possible insider trading and stock manipulation.
Zhou Chengjian, the chairman of youth fashion brand Shanghai Metersbonwe Fashion and Accessories Co Ltd, is believed to have been taken into custody, although the company's public relations department refused to confirm details.
The Shenzhen-listed company halted trading on Thursday, saying in a statement that it had adopted the measure in the interests of its shareholders.
A source close to the company said, however, that she had been unable to reach Zhou since Wednesday night.
Zhou initially launched the business in Wenzhou, East China's Zhejiang province, and reports suggested he was back in his hometown at the time police detained him.
Zhou is the latest in a number of well-known business-people who have been questioned in recent months in connection to alleged questionable share dealings.
Those caught up in probes included Xu Xiang, the general manager of the hedge fund Zexi Investment in Shanghai, who is also known as "hedge fund brother No 1" for his knack of timing stock swings.
Reuters reported on Wednesday that Chinese brokerage Changjiang Securities Co Ltd had removed its chairman Yang Zezhu from his post, following the launch of an investigation by the government's anti-corruption agency for possible "disciplinary violations".
The move comes as the authorities work to restore confidence in the stock market after suspicion of irregular trading following market turmoil which began in June.
Several senior executives at the country's largest brokerage CITIC Securities Co have also come under investigation since September, with some suspected of insider trading.
Zhou Chengjian's Metersbonwe closed nearly 800 physical stores in 2014, four times more than it did the year before. The company lost in excess of 90 million yuan ($13.7 million) in the first half of 2015, as its net profit plunged more than 152 percent year-on-year.
Guo Haiyan, a senior analyst with China International Capital Corp Ltd, predicts Metersbonwe's losses are likely to top 250 million yuan for 2015.
Established in 1995, the company reached its peak in 2011 with revenues of 9.94 billion yuan and net profit of 1.2 billion yuan. But after listing in Shenzhen in 2007, it experienced its first sales drop in 2012, from which it has failed to recover.
Despite the flagging business, at the end of last year, Zhou and his family jumped to 62nd on the 2015 Hurun Rich List, with their estimated total wealth surging 121 percent to 26.5 billion yuan