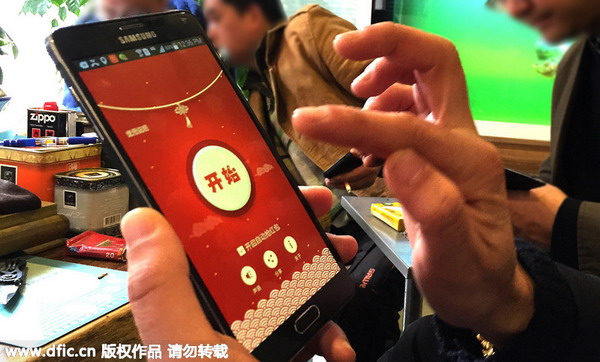 A Chinese mobile phone user tries to snatch Hongbao (red envelope) via a mobile app in Chongqing municipality on Feb 24. [Photo/IC]
Ant Financial Services Group, the Internet finance arm of Alibaba Group Holding Ltd, said on Thursday it is investing huge amounts on being able to provide cash-filled virtual red envelopes via its Alipay Wallet application, during the upcoming Spring Festival that falls on Feb 8.
The use of virtual red envelopes, which contain cash or gift coupons, first came to prominence during last year's Spring Festival, mostly prompted by WeChat's Wallet-a mobile payment tool owned by Alibaba's arch-rival Tencent Holdings Ltd.
Fan Zhiming, the head of Ant Financial's payments unit, refused to reveal the exact amount of its investment in the upcoming Spring Festival red envelopes campaign.
But he did reveal it has landed more than 100 corporate sponsors for the effort, including Club Méditerranée, the French resort vacation package provider, and Huawei Technologies Co Ltd's mobile device unit.
Much of its effort is going into making sure people can get red envelopes during the country's signature, televised Spring Festival Gala on Feb 7, said Fan.
"The gala attracts an audience of hundreds of millions, and Alipay has 400 million mobile payment users.
"That combined user base can help brands target customers in major cities and small towns nationally," he said, adding the company expects more sponsors to come on board.
Ant Financial's move comes just a day after WeChat announced it was investing hundreds of millions of yuan on its own upcoming Spring Festival red envelope campaign.
Analysts say that as well as the cash-packed envelopes income, the annual push is as much about control of China's rapidly growing mobile payments market, with both companies hoping their red envelopes will act as bait to secure new mobile payment users.
Statistics from iResearch Consulting Group show China's third-party mobile payment transactions from July to September were worth 2.42 trillion yuan ($364.32 billion), a 64.3 percent rise year-on-year.
Alibaba's Alipay accounted for about 70 percent of the market while Tencent ranked second with about 20 percent.
Li Chao, an analyst with iResearch, predicts, however, that WeChat's payments may soon challenge Alipay's dominance.
"WeChat has more than 650 million monthly active users while Alipay Wallet has about 270 million. If WeChat can successfully turn half of its users into mobile payment users, it would create a strong competitor to Alipay Wallet," he said.
WeChat claims it successfully landed the majority of its 200 million mobile payment users after pouring 500 million yuan into its 2015 Spring Festival red envelope campaign.