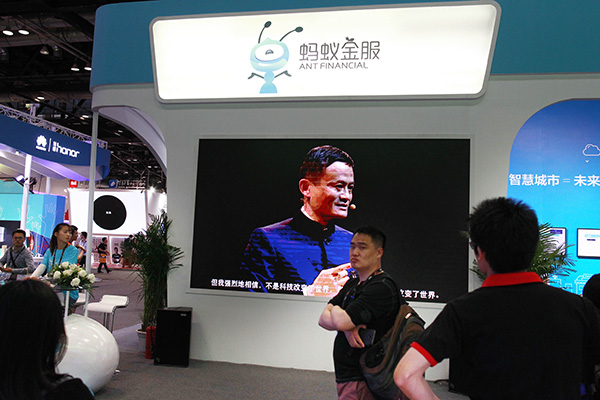 The booth of Zhejiang Ant Small and Micro Financial Services Group Co Ltd at an expo in Beijing. [Photo/China Daily]
Alibaba Group Holding Ltd's financial affiliate has received an investment from the National Social Security Fund, part of a private placement that values the unit at more than $40 billion.
Wang Zhongmin, vice-chairman of the National Council for the Social Security Fund, said on Thursday that the organization had taken a 5 percent stake in Zhejiang Ant Small and Micro Financial Services Group Co Ltd, owner of mobile payment platform Alipay.
Referring to the deal as a case of "an elephant falling in love with an ant", Wang said: "Seeing how online finance has boomed, we believe the market value of Internet financial institutions will more than double." He made the comment during an investment forum.
Wang said the transaction was the first direct investment that the council had made, but he did not disclose further details.
The deal is part of a broader plan by Ant Financial to attract outside capital. Financial website Caixin.com has reported that the Postal Savings Bank of China and CDB Capital, the investment arm of China Development Bank, each took a 3 percent stake in Ant Financial in February.
Ant Financial said in a statement to China Daily that the company has not finished its first round of fundraising, and it is still in discussions with potential investors.
Guo Tianyong, head of the Research Center of the Chinese Banking Industry, said investment by State-backed organizations shows that the country has growing confidence in the business model and prospects of Internet finance.
"Ant Financial, as the best-performing Internet financial service provider, is an ideal target for investments from State-owned financial institutions that are eager to participate in the booming industry," Guo said.
Ant Financial operates Alipay, the most popular online payment tool in China. With 270 million monthly active users, it processed 82.8 percent of all online transaction in 2014, according to consultancy Analysys International.
In 2013, the company launched an online fund called Yu'ebao, which offers consumers a place to park idle cash. Yu'ebao had about 580 billion yuan ($93 billion) in assets under management as of the end of 2014, it said, making it the largest money market fund in the Chinese mainland and among the largest in the world.
"The influx of State-owned capital will pave the way for cooperation between private companies and State-run enterprises", Guo said, adding that the diversification of equity ownership would contribute to the long-term development of the company.
Ant Financial is controlled by Alibaba Group Holding Ltd Chairman Jack Ma. Last October, he said the financial affiliate will "definitely go public". If that happens, Alibaba is entitled to either one-third of Ant Financial's shares or a one-time payout equal to 37.5 percent of the equity value.